Easy Holiday Plate Garnishes for Festive Table Settings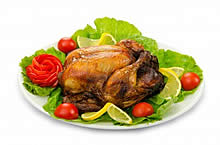 Learn the fine art of fruit and vegetable carving at your own pace, in your own space, with the new "Creative Carving DVD, Lesson 1″. Professional Thai carving artist Chef Nuntana will teach you in clear, well explained steps how to create easy plate garnishes in time for this holiday season.
The lesson begins with the classic tomato rose, simple vegetable flowers and leaves and then progresses to slightly more difficult carvings including a curly leek flower garnish and cantaloupe rose centerpiece. All of these carvings are ideal for Christmas and Thanksgiving plate garnishes and holiday table settings. Surprise yourself and your friends when you master this beautiful culinary art!
Visit our online fruit carving store for complete details about the beginner's Creative Carving DVD, Lesson 1 and begin to learn how to stylishly garnish your holiday table.

Top image credit: elnur / 123RF Stock Photo; all other images and text copyright 2012 TempleofThai.com