The Pok Pok Cookbook – Behind the Scenes with Andy Ricker & J.J. Goode
J.J. Goode, co-author of The Pok Pok Cookbook, kindly shares his personal photos and comments in this blog post with a behind the scenes look at the making of a cookbook which has been 20 years in the making.
Most mornings, before we hit the market, we went to Akha Ama, which has the best coffee in Chiang Mai. Andy likes the cat there almost as much as the cappuccinos.
To shop for the ingredients we needed to cook the day's recipes, we went to Talaat Muang Mai, the big wholesale market. Here's Andy, looking very tall and shopping for limes. For Americans, he suggests either buying key limes or adding a squeeze of Meyer lemon to regular lime juice in order to mimic the flavor of Thai limes.
We (or I should say, Andy) cooked everything in this kitchen in a beautiful old teak house in Saluang Nai, about 30 minutes outside of the city (of Chiang Mai) and owned by an old, dear friend of his. He's chatting with Ba Daa, our awesome kitchen assistant, about the day of cooking.
Here's our buddy Austin, the photographer, doing his thing! He and Andy bought a ton of oil cloth for the photo backgrounds. So many of the roadside restaurants we ate at had tables covered with these colorful, quirky cloths.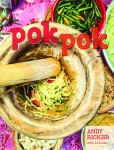 If you have been too impatient to wait in line at Pok Pok now you can make Andy's recipes at home. Working directly with J.J. and Andy we have come up with a handful of ingredient and cookware kits, including this Getting Started Kit, so you can begin cooking the Pok Pok recipes in no time. If you have any questions for Andy or JJ, please post them below and we will get you answers! Thanks for reading.
Photos and comments © 2012 J.J. Goode