9 Holiday Gift Ideas for Foodies & Coupon Code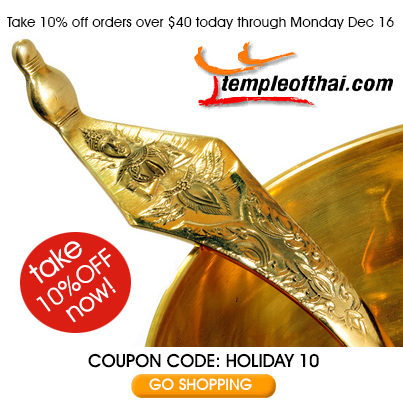 Christmas is just around the corner and the malls are packed! To alleviate last-minute stress, let us help deliver some wonderful, exotic, gift ideas for your loved ones this holiday season, with just a few clicks from Temple of Thai. And today through Friday the 13th you can take 10% off orders over $40 (before shipping) including Sale Items. Just type in HOLIDAY10 when checking out in our online cart to take advantage of this limited time offer.
| | |
| --- | --- |
| | 1. You'll get a stocking full of high-quality Thai ingredients in each of our Andy-approved Pok Pok Recipe Ingredient Kits. We worked with Andy Ricker and JJ Goode to put all the hard-to-find Thai ingredients in a bundle to make the recipes in Andy's debut cookbook, exclusively at Temple of Thai! |
| | 2. You'll also find Andy's recommended cookware for making the Pok Pok Cookbook recipes. If you pair up one of the Pok Pok Ingredient Kits with cookware like our Granite Mortar and Pestles you'll have an impressive, fun and imaginative gift. If you don't already have the hugely popular Pok Pok cookbook, don't worry because you can find the kit recipes on our site. |
| | 3. In the new, beautifully photographed Pad Thai Cookbook from one of Thailand's top cookery publishers you will find more ways then you ever imagined possible to make Pad Thai along with recipes for other popular Thai noodle dishes. We also have all the necessary Thai ingredients for making your Pad Thai dish taste so way better then your local take out ever could. |
| | 4. Our Perfect Pad Thai Kit is a another great gift for people crazy about Pad Thai noodles! This kit includes all the authentic Thai ingredients necessary for making Pad Thai and a beautiful recipe card. You can also pair it up with a wok for a comprehensive cooking kit. |
| | 5. The new Taste of Thai Cuisine cookbook has authentic recipes, beautifully photographs, step-by-step instructions and descriptions of exotic Thai ingredients. This is a newly revised edition of a classic Thai cookbook by one of Thailand's foremost cookbook writers. |
| | 6. A fun stocking filler for even the non-cook is Asian Snacks! Be a little different this Christmas and surprise your family and friends with exotic Asian Roasted Chestnuts or Durian Chips. |
| | 7. Give the gift of a hours of cooking instruction with the excellent Learn to Cook Thai with SITCA. Filmed in SITCA's modern teaching kitchen located on the island of Koh Samui, the classes are designed to teach you to prepare authentic Thai cuisine using ingredients available outside of Thailand. |
| | 8. A selection of professional handmade Thai Fruit Carving Knives and Kiwi Kom Kom brand knives are on sale through December 16 and today through tomorrow you can take an ADDITIONAL 10% off orders over $40 using the coupon code, along with all of our books, tools and DVDs! |
| | 9. This handmade Brass Wok imported from Thailand is sure to impress, it can be used to cook and serve Thai curries or more traditionally Thai desserts that react with other types of cookware. |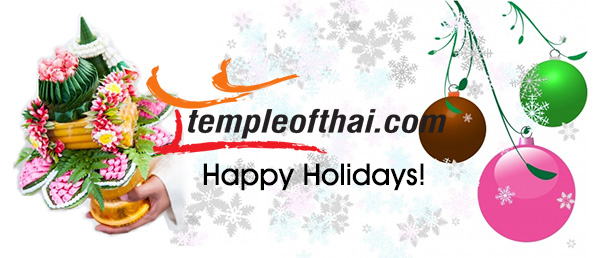 WISHING YOU ALL A VERY MERRY CHRISTMAS AND A HAPPY NEW YEARS, FROM TEMPLE OF THAI!