'Huge Thai Phase' for Cooking Channel Host Jeffrey Saad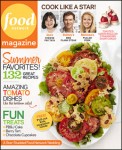 Currently on newsstands, the September issue of Food Network Magazine visits the well-equipped kitchen of Chef Jeffrey Saad, host of United Tastes of America. Jeffrey's stylish kitchen is prepared for cooking all sorts of cuisines, and he says tools like the Temple of Thai granite mortar and pestle get a lot of action, especially for crushing Thai chilies.
Earlier this year, Chef Saad visited Thailand and has since been "going through a huge Thai phase…". Now in its third year, Chef Saad's show United Taste of America, delves into into the history, science and pop-culture that have transformed America's favorite foods. At the moment, Jeffrey is traveling the US promoting his new cookbook, Jeffrey Saad's Global Kitchen, Recipes Without Borders, offering a compilation of recipes from around the world with an emphasis on the influence of spices.
We invite you to share your comments on this blog post. Please let us know your feedback on our granite mortar and pestle. We would love to hear from you! You can find more authentic Thai ingredients and Asian cookware in our online grocery.
Images copyright, Food Network Magazine a publication of Hearst Magazines Division, Hearst Magazines Inc. © 2012.