Best Cleaver Knives from Kom Kom
Best Cleaver Knives Chinese, Butcher, Meat, Kitchen
These cleaver knives, imported from Thailand, are specially created for the kitchen.
---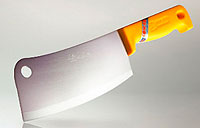 6" Cleaver Yellow Plastic Handle (810)
This six-inch Chinese meat cleaver has a large and heavy blade. This smaller version of a classic butcher's cleaver is great for cutting meat, and will also be handy for many tasks around your kitchen, like splitting bones, smashing garlic, and slicing vegetables. Its yellow plastic handle is easy to hold and to clean.
Hand-wash this Chinese knife so its blade stays sharp.
Kom Kom knives cost more than their competition on the Thai market, Kiwi knives, because they are produced to more exacting standards. Kom Kom knives are the best choice for quality and everyday durability in Thailand's Chinese cleavers. These blades are made of a stainless-steel carbon alloy that is treated with heat, then tempered and sharpened. With this careful production, you can rely on the sharpness and durability of these cleaver knives.
Features:
Kom Kom brand imported Thai knife
Heavy enough to cut through meat and bone together
Sharp enough for careful slicing
Blade is made of sharp and durable hardened stainless-steel
---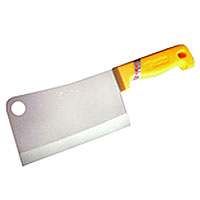 7" Cleaver Yellow Plastic Handle (846P)
Every Thai kitchen has a Chinese style butcher's cleaver, and often more than one! This cleaver knife's 7" blade can smash garlic and pulverize herbs, as well as chopping quickly through meat, making it a great tool for Thai salads like Larp Moo. The blade is heavy enough to mince meat and chop through poultry on the bone, and is sharp enough to angle-cut vegetables.
We recommend hand-washing for Kom Kom meat cleavers, as this ensures their blades remain at their sharpest.
Kom Kom knives are the most respected from Thailand, as they are produced to a higher standard than their competitor, Kiwi brand knives. These cleavers are produced from a stainless-steel alloy which is tempered and sharpened to make sure they are both attractive and durable enough to use every day.
Features:
Thai Kom Kom knife
Heavy 7" blade chops through bone and meat
Blade is sharp enough for fine dicing
Durable, hardened stainless-steel blade
Easy-to-clean yellow plastic handle
---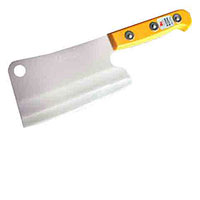 6" Cleaver (Special Blade) Plastic Handle
Every cook can find a use for this Chinese style butcher's cleaver.
With a 6" blade, this meat cleaver is easy to control and perfect for either finely dicing meat or crushing garlic and other seasonings. This super-sharp cleaver knife blade, made of Kom Kom's highest-quality stainless steel, can easily mince all kinds of meats, chop through poultry and other small bones, and accurately slice vegetables. If you want to serve meat still on the bone, Thai-style, this Chinese cleaver will chop through both meat and bone at the same time.
This cleaver knife has our highest-recommended stainless-steel blade, set into a distinctive yellow plastic handle that is easy to clean and hold. This cleaver is best for both large jobs that require cutting through large amounts of meat, and finer work.
Hand-wash this meat cleaver to make sure it stays at its sharpest.
Kom Kom knives are the highest-quality Thai knives, and this knife boasts their highest-quality steel blade. It is ideal to use every day, and will look amazing in your kitchen or on your serving board. This high-quality steel blade is heat-treated, tempered, and sharpened, making this one of the longest-lasting and sharpest cleavers you can find.
Features:
Authentic imported Thai Kom Kom knife
Chops through meat, tough vegetables, and bone alike
Sharp and accurate for slicing
The highest-quality Kom Kom steel blade
---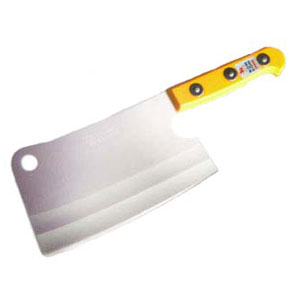 7" Cleaver (Special Blade) Plastic Handle 870P
The best choice for chopping and dicing meats, slicing vegetables, and crushing seasonings is this 7" butcher's cleaver, with a traditional Chinese cleaver blade. Sure to be the kitchen knife you most often reach for, this cleaver knife is perfect for chopping poultry bones, mincing meats, and cutting perfect-size vegetable pieces. This heavy, high-quality blade cuts straight through meat that is still on the bone. With an easy-to-clean and hold yellow plastic handle, this knife has the stainless-steel blade that we most recommend. Use this knife for both fine knife work and large jobs that require cutting large amounts of meat.
This meat cleaver stays at its sharpest when hand-washed.
Compared to the other popular Thai knife brand, Kiwi, Kom Kom knives are produced to a higher standard and have superior specifications. Kom Kom knives have a reputation as a great everyday kitchen knife, and this cleaver continues in their tradition.
Features:
Kom Kom Chinese-style cleaver, imported from Thailand
Heavy 7" blade easily chops through bone
Accurate and sharp for fine cutting
Has Kom Kom's highest-quality blade, made of stainless steel