Perfect Pad Thai Kit with Wok
Get the true Thai taste with our Perfect Pad Thai Kit. The 13" wok and beautiful step-by-step recipe card make this set the Perfect Gift! Find detailed instructions for this fool-proof, best ever Pad Thai Recipe. Soft noodles, crispy beansprouts and peanuts with a sweet tamarind sauce - delicious!
Panang Curry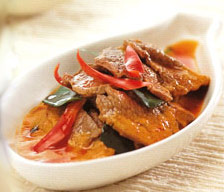 Panang curry is richer, sweeter, and creamier then other Thai curries because of the addition of peanuts to the sauce. For fast cooking use Nittaya Brand Curry Paste, recommended by Epicurious.com.
Ingredients:
Preparation:
Wash the beef, cut into pieces about 1 inch (3 cm) thick.
Heat 1 cup of coconut milk over medium heat until the oil surfaces. Add curry paste, stir constantly for 2 minutes until fragrant and red oil surfaces. Add the beef, and cook for a further 5 minutes or until done. Add the remaining coconut milk.
Season to taste with salt, fish sauce and sugar. Add roasted peanuts, stir well. Reduce the heat and simmer for 15 minutes or until the beef is tender. Stir well to combine. Sprinkle kaffir lime leaves on top, and turn off the heat.
Transfer to a serving dish, garnish with red chilies. Serve hot.

Recipe source: Popular Thai Cuisine available in our cookbook department; Copyright © 2000 Sangdad
More details: Panang Curry Recipe and Panang Curry Paste Recipe

Nittaya Panang Curry Paste
"Making Thai curry at home usually involves pounding hard-to-find ingredients in a mortar, or struggling to make something edible from pallid premade pastes. Nittaya changes everything. The finest brand we've found, Nittaya's paste produces intensely delicious curries without the effort.
"
EPICURIOUS.COM
Carved Lotus-Shaped Fruit Bowl
Even though this canteloupe melon carving looks sophisticated, it is actually as easy as peeling the melon skin without cutting through, cutting small notches for leaves and filling the bowl with melon balls. Perfect for the busy holiday season!
Materials :
One small unripe cantelope
Sharp-pointed fruit carving knife
Long bladed carving knife
Melon scoop
Preparation:
Make a shallow slice to cut off the stem end.
Make cuts down the side of the melon to divide it into 12 uniform sections. Cut under these sections to make the outer ring of 12 petals. These should be about one quarter of a centimeter thick.
Divide the melon into 12 sections centered between the petals of the outer ring to make a second and then a third ring of petals. Next, remove the seeds and membrane at the center.
Notch the borders of the petals attractively, starting with the middle ring and then moving to the inner ring.
Notch the borders of the petals of the outer ring more deeply and cut a shallow groove in each.
See more detailed instructions with step-by-step photos of this Cantelope Carving

Source: Complete Step by Step Vegetable & Fruit Carving Book available for sale in our fruit carving department; Copyright © 1999 Sangdad Publications