Thai Cooking Newsletter

Recipes & Fruit Carving
Welcome to the Temple of Thai newsletter. You can also read this online
here
.
| | | | |
| --- | --- | --- | --- |
| | In the Thai Kitchen | | Featured Items: |
| | Fried Fish with Tamarind Sauce | | Tamarind Paste |
| | Radish Flower Carving | | U and V Carving Tools |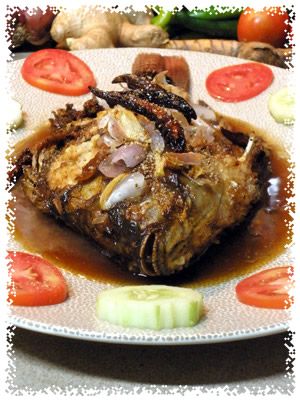 Deep-Fried Fish with Tamarind Sauce (Jean Plah)
This delicious Thai recipe can be made with ingredients on hand in the pantry and a frozen whole fish, yet it is good enough for a party or special dinner occasion, making it perfect for busy modern life.
Ingredients:
5 shallots, grilled and crushed
10 small cloves garlic
10 dried Anaheim chilies, cut into 2 inch strips
1 lb (500grams) Red Snapper, Tilapia or similar firm white flesh fish
1 cup (250ml) water
3 tablespoons (45ml) tamarind paste
3 tablespoons (45ml) palm sugar
2 tablespoons (30ml) fish sauce
10 white peppercorns
Preparation:
Over high heat, quick fry shallots in a dry wok or skillet until peels are burned, about 15-20 seconds. This will bring out the shallots aroma. Remove charred peel and crush.
Crush the garlic and set aside. Put a 1/2 cup (125ml) of the oil in a saucepan over low heat. Add the garlic and keep stirring until it turns slightly yellow or about 1 minute. Transfer the garlic to a plate lined with paper towels.
Add chiles to oil and deep fry over low heat for 30 seconds. Transfer to another plate lined with paper towels.
Add the rest of the oil and heat over high heat. Carefully add the fish and let it cook about 5 minutes on each side. Using a fork probe the fish meat, if the fork sticks with the meat the fish is not yet cooked. After the fish is cooked, transfer to a plate lined with paper towels and set aside.
Add the tamarind paste, palm sugar, fish sauce and water in a saucepan over medium heat for 5 minutes. Add the peppercorns and stir to mix well. Taste and adjust to balance the saltiness, sourness and sweetness. Turn off the heat. Set the fish on a serving plate and pour the sauce over the fish. Top with garlic, shallots and chiles. Serve hot with steamed jasmine rice.
Recipe source: The Prem Organic Cooking Academy Recipe Booklet, by Su-Mei Yu, Chiang Mai, Thailand. See our site for more details about the school.
Shop for Thai food, Asian cookware & fruit carving items in our online grocery.

Tamarind Paste

In South East Asian recipes, usually tamarind water is called for as it is easily blended into a dish. To prepare tamarind water, pinch off a piece from the block of tamarind paste, pour over water to cover in a bowl, and squeeze the pulp repeatedly. Strain the resultant liquid, discarding any fibers.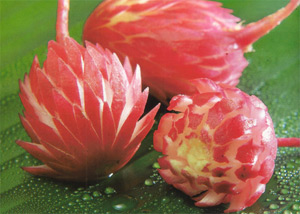 Radish Flower Vegetable Carving
Materials Needed
Instructions :
Cut out the leaves of the radish.
Use a V-chisel knife to erode each layers.
Erode the 2nd layer until finished, in alternating patterns.
Soak for 5 minutes so that the petals will nicely open.
Source: The Art of Vegetable Garnish book, available for purchase here. See our site for a another radish flower carving and detailed step-by-step photographs.
See more step-by-step fruit and vegetable carving tutorials at Temple of Thai.

U and V Fruit and Vegetable Carving Tools
U and V-shaped tool set of six pieces for chipping inner flesh and outer skin of fruits and vegetables into small or big U and V-shapes for easy carving.
Shop for fruit and vegetable carving books and tools here.

Tom Yum Soup Set
Get Fresh Kaffir Lime Leaf, Galangal, Thai Chilies, Thai Eggplants, Fresh Thai Basil & Frozen Banana Leaves shipped from sunny Southern California direct to you!
Shop for Thai Fresh Ingredients.