---
Authentic Thai Food
Publisher: Sangdad Books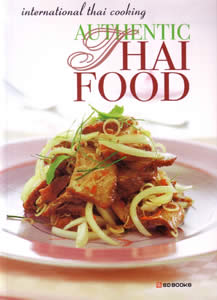 Our most popular title! An introduction to Thai cooking: 46 recipes for appetizers, soups and currys, stir fry and spicy salads.
APPETIZERS DISHES :Thung Thong, Poh Piah Thod, La Tiang, Sa-Khu Sai Mu.
SOUP AND CURRY DISHES : Tom Som Pla Tu Sod, Tom Khlong, Kaeng Jeut Ruam Mid,
Neua Tun, Kaeng Liang Kung Sod, Kaeng Som Phak Bung Phirk Sod Kab Kung, Kaeng Khua Kung Kab Sappharod, Kaeng Ka-ri Kai Rue Neua, Kaeng Matsaman Neua, Kaeng Khiao Wan Kai, Kaeng Phed Ped Yang, Kaeng Khua Fak Kab Kai, Pha-Naeng Neua, Hor Mok Mu, Kai, Op Pla
STIR-FRIED DISHES : Mu Reu Kai Phad Khing Sod, Mu Phad Phrik Sod, Phad Phrik Khing Mu Kab Thua Fak Yao, Phad Khi Mao Kung, Phad Phak Ruam Mid, Phad Phed Kung Pla Kao Rad Phrik Kaeng, Khai Jiao Mu Sab, Thod Mun Pla, Kai Ho Bai Teui.
SPICY SALAD DISHES : Yam Thale, Yam Wun Sen, Yam Hed Fang, Yam Neua Yang, Yam Ma-Kheua Yao, Nam Phrik Long Rua Lae-Mu Wan, Nam Phrik Ong, Nam Phrik Kapi, Lon Ham.
ONE-PLATE DISHES : Khanom Jeen Nam Phrik, Khanom Jeen Nam Ya, Phad Thai Kung Sod, Mee Kati, Phad Mee Krob, Khao Mu Thod Krathiam Phrik Thai, Khao Phad Ka-Phrao Mu, Khao Phad See Muang, Khao Phad Mu Reu Kung Sai Kha.
Beautiful full page photographs of every dish. Includes both English and Thai translation. Published by Sangdad Books, 102 pages, high quality glossy paperback. Imported from Thailand.
Ships in 2-3 business days
---
---
Visit us on Facebook!
---
---
Availability: Ships in 2-3 business days
---