Thai Cooking Tips From Our Kitchen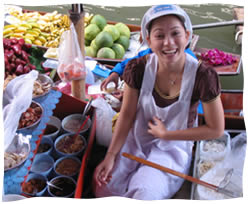 Welcome! This is the place to find home-style Thai recipes, Thai cooking tips, photographs and descriptions of exotic Thai ingredients and answers to some of your Thai cooking questions. Please be sure to check out our latest Thai cooking newsletter and find out what is new!
While you are here in our Thai kitchen, please take a look around. You will find many Thai recipes and information, tips and techniques for cooking Thai-style. Please contact us know if you have any questions regarding Thai food, it's preparation, traditions or folklore. We also appreciate suggestions or if you have created one of our recipes, we would love your feedback!

Latest Newsletter - Som Tum Thai Recipe & Watermelon Carving Contest 2012 - spice up your summer with this classic North Eastern recipe for papaya salad - Som Tum Thai. Find out more about the 2012 Watermelon Carving Contest.