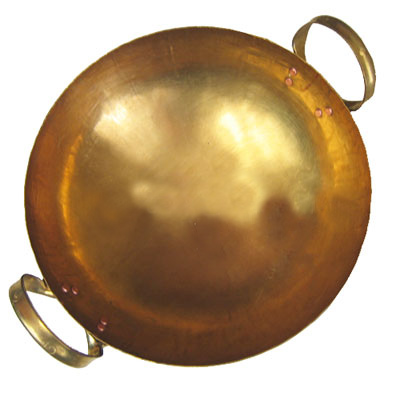 Perhaps the most important cooking tool in the Thai and Asian kitchen is the wok, because of its versatility. Woks distribute heat evenly and are excellent for stir frying, steaming and boiling. There are a variety of woks available on the market, including the carbon steel wok and the brass wok. The steel wok is the workhorse of the Asian kitchen and is used on an every day basis mainly for stir-frying.
This beautiful solid Brass Wok ("kratha thawng" in Thai) is mainly used for cooking Thai desserts but can also be used for preparing and serving soups and curries. Because it conducts heat evenly and due to its special characteristic of preserving the aroma and color of Thai desserts, it is the utensil of choice for making Thai kanom. Brass does not react with the acids in fruit or fresh coconut, so syrups can be prepared without scorching.
Also see our Seagull brand stainless steel Wok Shovel for stir-frying and Steel Wok for everyday cooking.
Dimensions: Width 10.5 inches, Height 3 1/4 inches. Capacity of 12 cups. This cast brass wok is smooth and nicely shaped. Brass wok should be seasoned with oil before use to help prevent sticking. Maintenance of this brass wok is quite simple. Rub the surface with lime or lemon to clean, then wash the brass with soapy water. Do not use any abrasives, which may damage the brass. Product of Thailand.
Availability: Ships in 2-3 business days