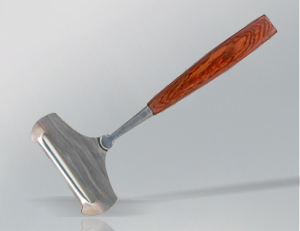 This melon carving tool is designed for peeling away wide strips of thin melon rind to prepare melons for fruit carving in mere seconds. The sharp, plane-style blade is custom made specifically for the purpose of working with watermelon, canteloupe, honeydew, muskmelon and similar melons. However, it can also be used for the purpose of shaving away cheese rinds in a quick and easy manner.
For carving designs such as flower beds and large vessels, the melon carver is ideal for preparing carving foundations in just a few minutes.
Make projects like melon vases for holding vegetable flowers as demonstrated in Chef Ray Duey's Fruit & Vegetable Carving DVD. Also see our other fruit carving tools and Melon Fruit Carving instruction book.
Product Features
Recommended by professional fruit carver, Chef Ray Duey
Stylish and practical tool
Razor sharp slicing tool
A convenient time-saver
Custom made specifically for carving melons
Availability: Ships in 2-3 business days