Fruit Carving How To - Creative Carving DVD, Lesson 1

,

Nuntana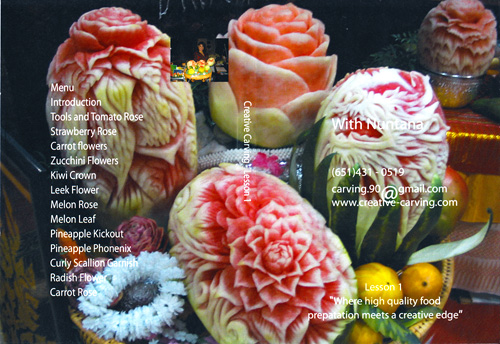 In this beginner level Fruit Carving How To DVD you will receive step-by-step instruction starting with elementary carvings like a tomato rose and fan to various vegetable flowers and then progress on to more advanced carvings including a leek flower garnish and cantaloupe melon rose (see the complete list of carvings below).
Taught by professional Thai fruit carver, Nuntana, you will learn the ancient art of fruit and vegetable carving in her first DVD in this ser. Nuntana introduces and explains the basic necessary carving tools to get started. Once you have mastered the simple carvings in this DVD, you will be able to arrange a colorful vegetable platter and garnish your buffet table with elegant fruit carving centerpieces.
Once you have mastered the carving lessons in this first DVD, you can then move on to Nuntana's second DVD in this series, Watermelon & Fruit Carving with Nuntuna DVD, Lesson 2
Nuntana uses the following vegetable and fruit carving tools and carving knives in this DVD (most of which are available for purchase here on our site):
Step-by-Step Fruit & Vegetable Carving Instruction, Creative Carving DVD, Lesson 1: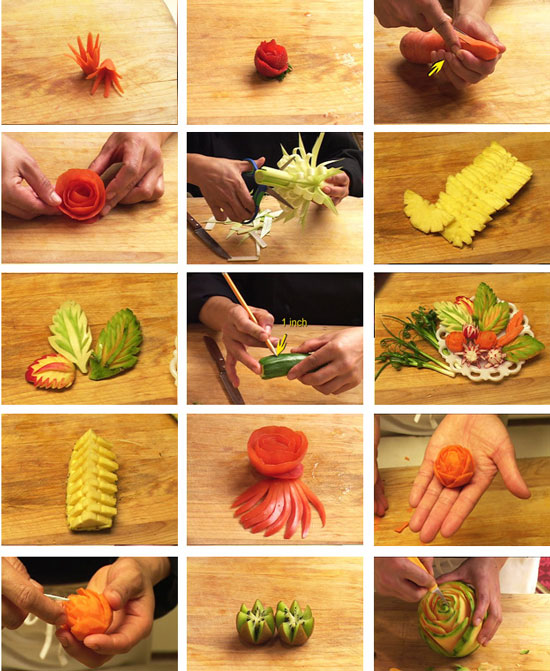 Introduction & Carving Tools
Tomato Rose and Tomato Fan
Strawberry Rose
Radish Flower
Carrot Rose and Basic Carrot Flowers
Zucchini Flowers
Double Kiwi Crown
Leek Flower Garnish
Cantaloupe Melon Rose
Carved Melon Leaf Garnish - Cantelope, Honeydew, Apple, & Carrot
Pineapple Kickout
Pineapple Phoenix
Curly Scallion Garnish
Radish Flower
Carrot Rose
Images Copyright © 2009 Creative Carving, Nuntana
Availability: Ships in 2-3 business days
Category: Fruit Carving DVDs
SKU: 7100000677