Fruit & Vegetable Carving - Serving Vessels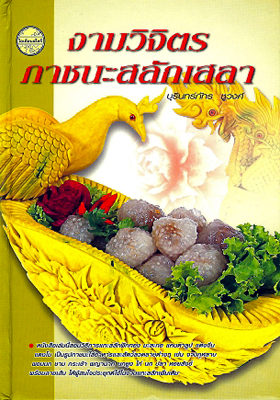 Fruit & Vegetable Carving: Serving Vessels (Ngam wichit phachana salaksalao in Thai) is written in the Thai language only and is recommended for advanced fruit carvers only or those seeking inspiration. This book is elaborately photographed with step-by-step images, making it possible to follow along without text for professional level carvers.
This book illustrates the highly-detailed traditional style of Thai fruit and vegetable carving, for which Thailand is famous. The book focuses on creating intricate carved serving trays, platters, bowls and baskets for the artful presentation of foods suitable for banquets, weddings, corporate events and dinner parties.
Carvings include:
two rose covered watermelon bowls
two honeydew floral patterned melon bowls and covered bowl
several different types of pumpkin (kabocha squash) platters
a pumpkin bowl topped with twin birds
a ripe papaya serving bowl
a fish-shaped papaya vessel
raised pumpkin pedestal
a conch shell shaped papaya vessel
a dragon shaped pumpkin bowl
a simple cantelope melon serving bowl and platter
a pumpkin "bird bath" platter
a goldfish shaped papaya bowl