Vegetable and Fruit Carving Video Course 101
These vegetable & fruit carving DVDs from professional instructor, Nita Gill, offer top quality carving instruction at a reasonable price. Both amateur and professional fruit carvers will appreciate the wide range of carving and garnishing ideas presented in her extensive list of DVD carving videos.
The video tutorials are perfect for beginning and advanced fruit carvers because Nita explains the various fruit and vegetable carving techniques in detail, demonstrating how to carve step-by-step, so that you can really understand how to create the patterns and also learn a few carving tricks. Nita will be your perfect carving teacher!

The lessons are available seperately or you may also purchase a set which includes 11 of the DVDs. Check out the various descriptions to find out what tools you will need to complete the lessons. You can purchase the recommended carving knife sets and tools in our store.
---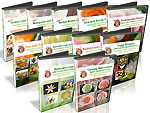 Complete Set of 11 Veg and Fruit Carving DVDs
With this detailed step-by-step instructional video course on DVD, you will learn to create beautiful fruit and vegetable carving centerpieces and garnishes with ease. You will be surprised to learn how fast and easily you can create amazing vegetable and fruit carvings. Professional fruit and vegetable carver Nita Gill teaches you how with this 11 DVD set. You can buy the lessons separately or as a set.
A fruit carving knife is required to complete the course - Nita recommends Fruit and Vegetable Carving Knives, Set A (Kom Kom brand) or even better, the Thai Flexible Carving Knife, because it is so sharp, and can maneuver with ease like a pen.
See the list of titles included in the Complete Set of 11 DVDs or available individually below:
---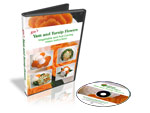 Yam & Turnip Flowers Carving DVD
This vegetable carving DVD teaches you how to make five variations of edible flowers using Serrated U Garnishing Tools. Professional fruit carver, Nita Gill teaches you how to assemble your carvings into a beautiful edible bouquet in this instructional DVD. See more details about this DVD.
---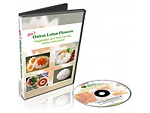 Onion Lotus Flowers Vegetable Carving DVD
Learn to carve onions into lotuses without any special tools for fruit and vegetable carving. Use these lotuses as garnishes, inside an edible bouquet, or work them into your meal. See more details about this DVD.
---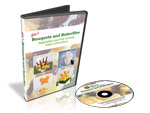 Bouquets and Butterflies Edible Bouquet Carving DVD
Your friends and family will love these beautiful and delicious bouquets, covered in gorgeous fruit butterflies. Of course, the whole bouquet is edible! See more details about this DVD.
---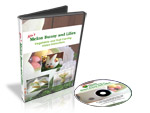 Melon Bunny and Lilies Vegetable Carving DVD
The guests at your next dinner party are sure to be delighted with these elegant calla lilies and adorable bunnies. This step-by-step video shows you everything you need to know. See more details about this DVD.
---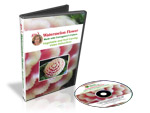 Watermelon Flowers Carving DVD, Using Corrugated U-Cutters
Easy step-by-step instructions will have you making a lovely watermelon flower using corrugated u-cutters. Your guests will be amazed! See more details about this carving DVD.
---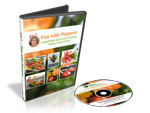 Fun with Peppers, Vegetable Carving DVD
Dress up your parties by using bell peppers to create these whimsical, colorful serving bowls, flowers, and even palm trees! Also learn how to make tiny spray flowers with chili peppers. See more details about this carving DVD.
---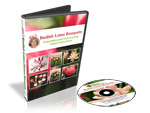 Radish Lotus Flower Bouquets, Carving DVD
Learn how to turn ordinary radishes into extraordinary flowers and bouquets. Learn 9 variations of flowers, 2 bouquets and 4 types of stems. See more details about this carving DVD.
---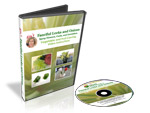 Fanciful Leeks and Onions Vegetable Carving DVD
Use onions and leeks to make onion curls, garnishes, fancy stems, spray flowers, and whole bouquets and with no special fruit or vegetable carving tools necessary. See more details about this vegetable carving DVD.
---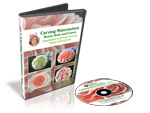 Watermelon Carving Roses, Buds & Leaves DVD
This video is great for both new fruit-carvers and experienced carvers who are hoping to expand their techniques. It teaches you the basic techniques for melon carving, along with three kinds of rose petals, rosebuds, and leaves which make gorgeous patterns when carved into different kinds of melons and fruits. See more details about this DVD.
---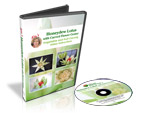 Honeydew Melon Lotus Carving DVD
For an eye-catching centerpiece, buffet display, or for serving a meal, try these honeydew lotuses with carved flower centers. This DVD covers several varieties of lotuses. See more details about this melon carving DVD.
---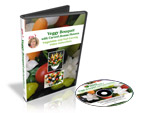 Veggy Bouquet with Carved Jicama Flowers DVD
When you need a special garnish, but just do not have time to carve something, try out this edible vegetable bouquet, no carving required! Jicama flowers carved ahead of time make it even more special. See more details about this edible veggy bouquet DVD.
---
More Fruit Carving DVDs from Nita:
Please note these are not included as part of the 11 DVD set and only sold individually.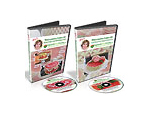 Watermelon Cakes Carving DVD
This fruit carving DVD set consists of 2 DVDs, which will teach you how to carve watermelon cakes for birthdays and all your festive occasions in detailed step-by-step instruction.
---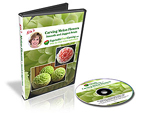 Carving Melon Flowers DVD
This DVD contains 2 full lessons that pick up where the lesson #11, Watermelon Carving Roses, Buds & Leaves DVD leaves off. Learn several styles of smooth-edged flower petals, then progress to intricate looking zig-zag edged petals as well as ruffle and scalloped finishes. See more details about this DVD.
---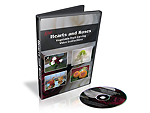 Hearts & Roses Vegetable & Fruit Carving Lessons DVD
Learn to carve fruits and vegetables using knives and tools that you already own with this great beginner DVD from professional instructor, Nita Gill. With basic carving and garnishing skills make roses, leek ribbon flowers, orange hearts and apple swans perfect for Valentine's Day. See more details about this DVD.
---

Also see our complete sets of carving books and tools.
---