Thai Cooking Newsletter

june 2009
Welcome to the Temple of Thai newsletter. You can also read this online
here
.
| | | | |
| --- | --- | --- | --- |
| | Featured Items: | | In the Thai Kitchen |
| | Rice Vermicelli, Wai Wai | | Thai Spring Rolls |
| | Fruit & Vegetable Carving Knives | | Easy Carrot Vegetable Carving |

Rice Vermicelli, Wai Wai
Mee Krob Noodles, which were popularized in an episode of Sex and the City, are prepared by quickly deep-frying these dry thin rice noodles in hot oil until puffed up. For Thai Spring Rolls (recipe below), the noodles are simply soaked to soften before cooking.

Keep on hand in your pantry! Shop for Asian Noodles.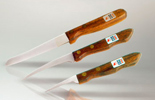 Fruit & Vegetable Carving Set "A"
Created especially for the art of vegetable and fruit carving, this set includes a tiny bird's beak carving knife, a special curved blade seeding knife, and a larger slicing knife. We recommend this Kom Kom brand set for the Vegetable Carving featured below.

Shop for more Fruit & Vegetable Carving Knives.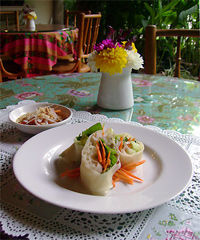 Mushroom Filling for Thai Spring Rolls
This is part of a recipe for Thai Spring Rolls. The stuffing of mushrooms seasoned with galangal make this a unique take on the usual dish. Perfect for hot weather with minimal cooking, diners can even make their own rolls at the table, cutting down on prep time and making it fun for everyone.
Ingredients:
1 cup cup fresh oyster mushrooms, torn
1 cup firm tofu, cut in 1/4-inch strips
4 tsp Thai soy sauce
1 tsp ground black pepper
2 tblsp cooking oil
1 tblsp fresh galangal, grated
1 tsp salt
Preparation: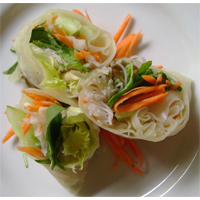 Put mushrooms and tofu into a mixing bowl. Add soy sauce and pepper and set aside for 20-30 minutes to marinate. Heat the cooking oil in a wok, add marinated mushrooms and tofu and stir-fry for 2 minutes. Then add the remaining filling ingredients - oil, galangal, salt and sticky rice powder - and mix together.
See our site for the whole Thai Spring Roll recipe, including Dipping Sauce.
Shop for Thai Food & Asian Cookware.
Recipe created by Chef Noon, Pak Chiang Mai © 2007 Chef Noon, formerly of the Phranakorn Nornlen Hotel, Bangkok. Read more about the eco-friendly Phranakorn Nornlen Hotel.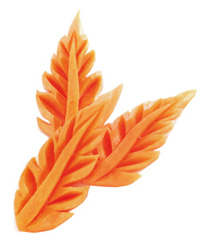 Easy Carrot Vegetable Carving
In Thailand, carving is often taught briefly at elementary school, especially to young girls. This carrot leaf carving would be an essential skill in the basic repertoire. See this Vegetable Carving with step-by-step photographs.
Ingredients:
Preparation:
Wash the carrots and cut into 3" lengths.
Cut each carrot lengthwise into slices 1/4" thick, and trim each slice to the shape of a leaf.
With the tip of the knife, cut two shallow grooves down the center of the slice to form the midrib of the leaf.
Along the edge, cut wide spaced notches to form the teeth. Then cut shallow grooves to form the ribs of the leaf, working from the base to the tip.
Notes: Prepare in advance and keep refrigerated well sealed until needed. We recommend using Fruit & Vegetable Carving Knives, Set A to prepare this carving.

Source: Complete Step by Step Vegetable and Fruit Carving © 1999 Sangdad Publications
Shop for Fruit Carving books, DVD's, tools and knives at the Temple of Thai.