Chef Noon's Tofu & Mushroom Fresh Thai Spring Rolls Recipe (Po Piat Sod)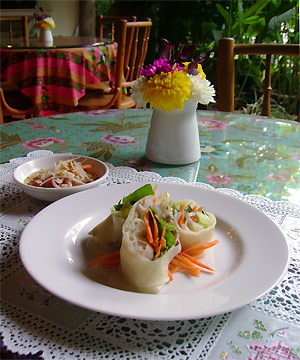 Thai food cooking instructor, tour guide and cookbook author, Kasma Loha-Unchit, confirms that Spring Rolls are not really a "true" Thai dish. When you see them in Thailand, whether the spring roll wrapper is rice or wheat based, will depend on what ethnicity inspired or made them - rice for Vietnamese-inspired and wheat for Chinese.
Spring rolls are very popular in Thailand, though maybe not quite as much as in Vietnam. In Thai versions, spring rolls can include more herbs and are a little bit crunchy from roasted peanuts and roasted sticky rice, according to Chef Noon, formally of the Phranakorn Nornlen Hotel (read more about this hotel on our site). This Thai vegetarian version for Fresh Spring Rolls is the creation of the chef, who now runs her own boutique hotel and restaurant in Chiang Mai, which is in the North of Thailand, called Pak Chiang Mai (outside link). *
Thai Spring Rolls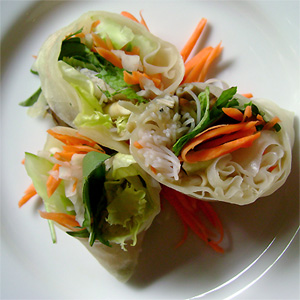 Noodles
Tofu & Mushroom Filling
Spring Roll Dipping Sauce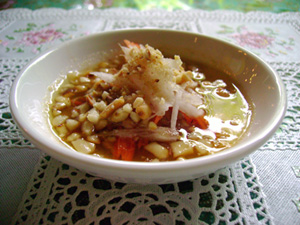 Preparation
Prepare filling:

Put mushrooms and tofu into a mixing bowl. Add soy sauce and pepper and set aside for 20-30 minutes to marinate. Heat the cooking oil in a wok, add marinated mushrooms and tofu and stir-fry for 2 minutes. Then add the remaining filling ingredients - oil, galangal, salt and sticky rice powder - and mix together.

Prepare dipping sauce:

Add vinegar, salt, garlic and water to a small sauce pan. Bring to a boil. Add sugar and fresh chilies, reduce heat and cook over low heat for 15 minutes. Remove from heat and let cool. Set aside.

Prepare vegetables:

Julienne the cucumbers and carrots as directed. Place the cucumber in a colander and salt lightly to draw the water out. Allow to drain for 15 minutes. Rinse with water, drain and pat dry.

Prepare noodles:

Bring a medium pot of water to boil. Add the cooking oil, rice noodles and salt. Boil until the noodles are tender, about 2 minutes. Drain and rinse under cold water. Leave the noodles in cool water until ready to use so they won't stick together. Just before filling the rolls, drain the noodles and arrange them on a baking sheet, loosely covered with a damp paper towel.
To assemble: Set up a large shallow plate of hot tap water. Slip a spring roll wrapper into the water. When the wrapper becomes pliable and soft at the edges (approximately 45 seconds) remove it from the water and lay flat on a paper towel. Place a lettuce leaf on the bottom half of the wrapper. Arrange mushroom tofu mixture over the lettuce along with mint, cilantro and basil. Spread out about 1 heaping tablespoon of the noodles over the vegetables. Pour 1 tbsp of dipping sauce in the middle.
Roll the wrapper up, tucking in the ends as you roll, and rolling as tightly as possible
Cut each roll in half across the middle. Then cut each of the two halves into two pieces diagonally across the middle to make a total of four rolls.
Stand the rolls flat on their ends and serve with dipping sauce and garnish with shredded carrot and daikon.
**To chiffonade stack and roll a small pile of mint leaves and slice (or snip) into thin ribbons.
Nutritional Analysis (per serving)
Serving size: 1 piece
Calories
178
Monounsaturated fat
0 g
Protein
2 g
Cholesterol
0 mg
Carbohydrate
43 g
Sodium
1491mg
Total fat
1 g
Fiber
1 g
Saturated fat
0 g
Recipe Copyright © 2009 Chef Noon, Pak Chiang Mai, Images © 2009 Temple of Thai
---
See an alternative video how to make your own Spring Roll Dipping Sauce from Manivan. Unlike Chef Noon's sauce, this one contains fish sauce.
Welcome to the Temple of Thai online Thai & Asian Grocery Store!