Thai Appetizer - Galloping Horses Recipe (Mar Hor)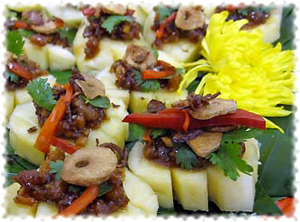 These tasty bites are based on the Thai appetizer mar hor which translates as 'galloping horses'.
A savory pork and shrimp mixture is used as a topping for fresh pineapple and orange slices. The contrasting flavors and textures combine to make a delicious and tantalizing snack.
This appetizer is a great party snack a fine accompaniment to a fruity cocktail such as a pineapple daquiri.
Paste Ingredients:
5 cilantro roots, finely chopped (or bottom part of the cilantro)
4 cloves garlic chopped
2 tblsp Thai ground white pepper
a pinch of salt
Topping Ingredients:
4 tblsp cooking oil
5 oz (150g) minced chicken
5 oz (150g) minced raw prawn
1 cup palm sugar
6 tblsp ground roasted peanut
2 tblsp ground dried shrimps
1/2 cup thinly sliced garlic, fried until golden brown
1/2 cup thinly sliced shallot, fried until golden brown
1 cup coriander leaves for garnish
Preparation:
Put the paste ingredients in a mortar. Pound into a coarse paste. Transfer to a bowl and set aside.
Put 2 tablespoon of oil in a wok or skillet over medium-low heat. When it begins to smoke, or about 1 minute, add the mince chicken, stir until outside of the chicken starts to turn white. Add the minced prawn and stir to mix and fry until the prawns turn orange. Turn off the heat. Transfer to another plate lined with paper towels.

Put the rest of the oil into a wok and fry the paste over low heat, stir until fragrant. Add the palm sugar and stir until dissolved. Add the fish sauce and stir to combine. Add the meat mixture and peanut, stir to combine. Add the dried shrimp, 1 tablespoon of fried garlic and shallot and stir to combine. Keep stirring until the mixture start to thicken. Transfer to a plate to cool.
Remove the skin of the pineapple and cut into triangle shape and bite-size pieces. Peel the orange and cut into segments. Spoon about 1 teaspoon of the mixture and put it into the middle of the pieces of fruit. Garnish with the fried garlic, shallot, sliced chili and coriander leaves.


The Prem Organic Cooking and Farming Academy
This recipe is courtesy of the Prem Organic Cooking School. See another Thai recipe from the Prem cooking school for Deep-Fried Fish with Tamarind Sauce
Recipe © 2010 The Prem Organic Cooking and Farming Academy