Thai Granite Mortar & Pestles and Clay Kruk Thai

The Thai mortar and pestle has become internationally famous thanks to chefs like the Naked Chef, Jamie Oliver. A mortar and pestle should be the part of every well equipped kitchen and a granite stone set is not only functional and durable but also beautiful. We are proud that the Temple of Thai mortar and pestles have been recommended in Saveur Magazine, Cook's Illustrated Magazine and Food Network Magazine.
Our selection of solid granite stone mortar and pestles are handmade by Thai craftsmen from natural grey or dark green stone and ranging in size from small, large, extra-large and super size. Please note that as each one of these mortar and pestles is carved by hand by individual craftsmen, there will be slight variations in the models. We also offer the Thai clay mortar with a wooden pestle in various sizes.
If you need help deciding which mortar & pestle is best for you see this. Also read our customer testimonials.
Each unique stone mortar and pestle set is machine cut from blocks of solid high quality Thai granite rock and hand finished by Thai craftsmen. When shopping, please be aware that the Thai mortar and pestle has become so popular in the past few years, that copies are being produced in China of lesser quality stone - caveat emptor! These are commonly seen for sale on auction websites.
As each set is hand finished, there can be variation in the sets with occasionally small 'chips' out of the stone. These variations do not effect the quality of the mortar and in fact should be considered part of its beauty. The inside bowl of the mortar is smoothly polished and non-porous. The outside of the bowl and top of the pestle is lightly glazed with shellac for decorative purposes. Stone color can vary from dark to light grey.
Any of these sets would make an excellent gift for the cook. They are functional and beautiful to display, the recipient will thank you for years to come! Also note that as with all our products, we offer a 30 day money back guarantee.
UPS Ground Shipping Costs for Mortar & Pestles: please use our online cart, input your delivery address (only) and the shipping cost will be automatically calculated. Note that the cost is weight based and distance based according to our warehouse location in North Hollywood, CA (91605)
Most Thai chefs will tell you that the mortar and pestle is probably the most important kitchen utensil in Thai cooking. In fact, mortar and pestles have been part of the Thai kitchen for almost 800 years, perhaps since the Sukothai era. If you are serious about preparing Thai food favorites such as red curry using a homemade curry paste or papaya salad (som tum) the mortar and pestle is indispensable.
Granite stoneware mortar and pestles are used for grinding ingredients that are fibrous and tough, like lemongrass and galangal such as for curry pastes. Our granite mortar and pestle will reduce fibrous herbs and hard seeds in no time. The pestle and inside surface of the mortar are polished smooth, so it will not absorb odors from foods. Very dense and heavy, this set does not chip and will last for years, even when subjected to vigorous pounding.
If you would like only to grind small quantities of herbs and spices or even pills, a less substantial set will suffice. Our smallest size granite mortar and pestle will work perfectly.
Lighter weight earthen clay mortar and pestles are preferred for crushing and blending ingredients such as for som tum salad. The traditional clay mortar and pestle can also be used for making curry paste (though less vigorous pounding is recommended) and especially useful for making Thai salads.

There are many different types of mortar and pestles available on the market, but we believe that the Thai granite set is one of the most attractive and versatile. The Mexican molcajete tejolote, although beautiful, can be coarse and porous. Molcajetes are usually made from basalt (lava) and are employed to create salsas and sauces.
The pestle of the popular marble mortar and pestle sets is much lighter in weight than the Thai granite one, making pounding more arduous. The Japanese suribachi is perfectly suited for grinding dry ingredients, but more limited in use. Of course you should choose your cooking tools based on what you actually plan to cook! So if you are in fact making Japanese pastes than perhaps the suribachi is best for you. Also consider our clay mortar and pestle set, which is also very popular in Thailand and preferred by some because of its lighter weight.
See Kasma Loha-unchit's comparison of Thai mortar and pestles.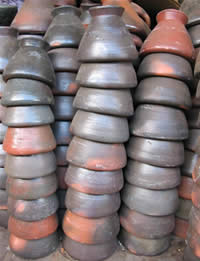 The rhythmic chank chank sound of the granite pestle hitting the mortar has traditionally started the day in many a Thai home. Up with the chickens, the woman of the household gathers together prik haeng (dried red chilies), fresh garlic, fresh lemon grass, fresh turmeric, and sea salt and tosses them into the bowl and pounds professionally into a very smooth paste (no seeds of the prik haeng should be visible when completed). With daily practice this can be done in less than 15 minutes. For a foreigner it may take at least twice as long. But the tasty results make the extra effort a worthwhile investment.
Today fewer Thais take the time to make the daily curry paste. It is convenient and inexpensive to pick up ready-made pastes ground by a large kreaung (machine) in the marketplace. Now the granite mortar and pestle is more often used for making Nam Prik, a spicy chili pastes, and to pulverize herbs, fresh green peppercorns (unfortunately not available in the US) and dried spices. Also, ready-made curry pastes can be spiced up or enlivened with additions of the cook's choosing - useful information for the busy Western cook also!
In the not so distant past (around World War II), apparently some Thai chefs did not even have access to the current version of the granite mortar and pestle and used something more akin to a primitive mortar and pestle (i.e. Mexican Metate y Metlapil), grinding with a rock held in the palm of the hand. Paste making took hours instead of minutes. Perhaps we should look upon the granite mortar and pestle as a modern convenience?!
Each granite mortar and pestle is made by hand by Thai craftsmen near the Gulf of Thailand, in the eastern part of the country. Apparently one can learn the trade within a couple of weeks. But the men who practice this art consider it to be a job of low pay and low status, therefore they are encouraging their children to not take up the craft. Also there is a limited quantity of good quality granite available in Thailand. These factors could someday lead to the demise of the trade. Some are calling for the intervention of the government, to insure its survival as it is an ancient craft handed down from family to family. In addition to making mortar and pestles, these same craftsmen carve Buddhist images in the tradition of Angkor Wat (Khmer ruins in Cambodia), those famous twin stone lions for library entrances and even kitsch garden ornaments, including gnomes!
Today in the United States the granite mortar and pestle has become very popular due to its use on Food TV by Jamie Oliver, also known as the Naked Chef. Being such a charming guy, Thailand's foundering mortar and pestle industry has enjoyed a sudden resurgence. Just when Thais were starting to buy their first electric blenders, and things were looking rocky, there has suddenly been an unexpected surge of exports of these mortar and pestle sets to the West.
Of course it is just another cooking trend, and once everyone who ever wanted a stone mortar and pestle has one, there will be no need really to buy another one - the darn things never wear out so that they can be passed from generation to generation. There are mortar and pestles still in use in Thailand that are known to be well over 25 years old. The pestle does slowly wear down after daily use for many, many years, as does the bowl.
From our survey of customers (anonymous responses) and unsolicited e-mails:
Your granite mortar is a work of art. I smile every time I look at it!
I found a mortar and pestle and rice steamer that I liked and it was cheaper than other sites.
Friendly people good product selection, recipes, and great mortars and pestles.
I liked all of your selection. And I love my granite mortar and pestle!!!
The mortar & pestle I purchased is *amazing*. But I'm sure you hear that all the time!
I just received my mortar and pestle and I am just delighted! This will look beautiful in my kitchen and I can't wait to start using it. This is the nicest one that I've seen.
Just a quick note to say I received the mortar and pestle. It's perfect! Exactly what I wanted.
Hi: I received the order last night, in perfect shape. I love the mortar & pestle. Went to work right away on some fresh galangal. Thanks for the great service. You will be hearing from me in the near future. I've decided to start collecting mortars & pestles, as I love the look and functionality of them. Thanks again.
Hi, Yes, I did do quite a bit of on-line searching and really didn't find a lot out there. There was one European guy named Mason Cash that had some but they weren't granite and they were a lot more expensive. I searched Google for Granite one's too but still I think your's is the best deal. I wanted a large size too. Do you have any suggestions for cleaning and use/ and or recipes? IF you do or have a link for me, that would be great. Thanks again. P.S. I may be making another purchase of a second mortar and pestle in April for my sister-in laws birthday. She also can appreciate works of art like this. Thanks again!
Dear People: Just received my new piece yesterday...it is truly a stunning addition to my kitchen...thank you so much...I look forward to many years of cooking with lovely fresh herbs and spices with this piece...I'm very glad I found you....Thanks again.
Thank You so much in the professional way in which you shipped my order. It just arrived at my door and in perfect condition. I hope to add the mortar and pestle to my keepsakes and get much usage from the product. There are so many items I want to buy from you, but will have to do it by piecemeal. Again, Thank You so much.
Just a quick note to say thank you for the quick and efficient service. You may or may not remember I ordered a mortar and pestle a couple of weeks ago. It arrived in record time and I love it. Thanks again.
I received my Thai mortar and pestle. It looks great!!!!!! I would like to thank you and Temple of Thai, for the prompt and excellent service. Grazie.
I'm incredibly pleased with the quality of the super-sized mortar and pestle set I recently ordered from templeofthai.com. I wanted to send an e-mail to let you guys know how happy I am that this product was available, shipped to my house quickly, and was in good condition upon arrival. I can't wait to start making raw cuisine and supplements with my new mortar and pestle set! - Austin
Thank you, amazing service!! I love my new Granite Mortar and Pestle! - Shelly
Received my shipment yesterday and I am more than pleased with the quality and workmanship of my mortar and pestle. Your service and promptness is to be commended also. Looking forward to doing business with Temple of Thai in the future. Thanks, Art
My mortar & pestle exceeded all expectations. I want to thank you and everyone with the Temple of Thai for complying with my request. The mortar & pestle is perfect in every respect and was packaged with care. You and all of the employees certainly are a valuable asset to the Temple of Thai. Thank you sooo much! - Ellis
I just wanted to let you know that the replacement pestle has just arrived....in great shape you'll be glad to know, I can't wait to use it!!!
I love my mortar and pestle set and cannot believe I waited so long to purchase one. Thank you! - Lisa
I'm very happy to report that my new Mortar arrived today, in perfect shape and beautiful! - John
Thank You again for all your extra efforts, and I am going to visit your site very soon, looking for ingredients and other Thai goodies to buy, not only because you have great products, but mostly because of all the care you took with making sure I was a satisfied customer, which I certainly am! I will tell all my friends where to do all their shopping!- Lou in San Francisco
I had ordered the small granite mortar and pestle and I must say that I am thoroughly pleased with it. I had found out about granite mortar and pestle sets from a friend who had one. At the time, since I had never seen one before, I thought it might be a hereditary piece or something they got in another country - something I probably would never be able to get my own of. When I found your site and that you sold them (through a Google search) I was overjoyed to be able to purchase one of my very own! Thank you for such a lovely item and I send my blessings in hopes your business continues through the years. Thank you again! - Barret