Galangal

,

Temple of Thai

, 4 oz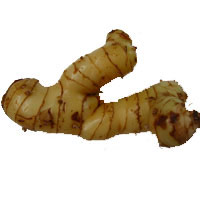 Galangal (Alpinia galangal, galanga, galingale, ginza root, Siamese ginger, alpina galangal or huah kah in Thai) is used like ginger root in cooking, but it is entirely different in flavor, tasting slightly medicinal. It is sometimes called 'aromatic ginger' and historically it was used as an aphrodisiac in Europe in the Middle Ages, until its use mysteriously died out. Today it is used only in Iranian and Southeast Asian cuisines.
One of the most popular Thai dishes using fresh galangal is the famous Chicken in Coconut Milk Soup (Tom Kah). Also it is an essential ingredient in many Thai curry pastes.
As with all Thai traditional ingredients, galangal has medicinal properties. A stomach ache cure can be concocted by mixing the grated root with fresh lime juice.
Store the whole fresh galangal root refrigerated in a ziplock bag with a paper towel for up to 3 weeks. To preserve longer, slice the unpeeled root thinly and air dry or freeze.
SHIPPING: When purchasing galangal online, because it is not highly perishable, you may ship by UPS Ground except in very hot weather. Please see our terms for shipping fresh produce for more details.
See Thai recipes using fresh galanga: Peanut Sauce for Satay, Yellow Curry Paste, Red Curry Paste, Green Curry Paste, Tom Yum Goong and Thai Beef Soup.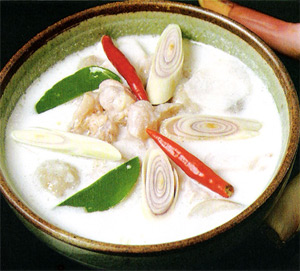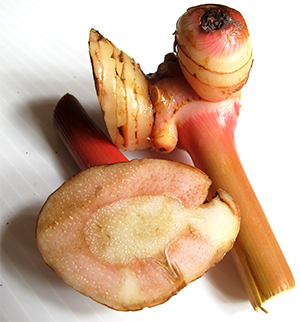 Ingredients: Fresh galanga root. Product of USA.
Availability: Ships in 2-3 business days from Los Angeles, California.
Category: Pok Pok Ingredients, Fresh Produce, Satay
SKU: 8200000115