Vegetable & Fruit Carving
Fruit Carving Knives, Books & DVDs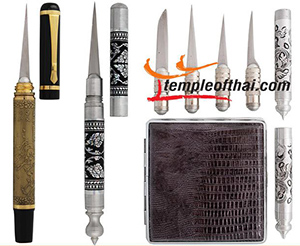 Find everything you need to get started in the art of fruit & vegetable carving. Browse our selection of illustrated carving books and tool sets imported from Thailand.
For beginners, this complete garnishing knife & tool set is ideal starting point and is optionally available with step-by-step vegetable and fruit carving book.
Practice your carving skills with our new soap carving books and tool sets. See our free tutorials for fruit carving how to.
| | |
| --- | --- |
| Knives & Garnishing Tools | |
Thai is an all-in-one book and carving tool set, providing step-by-step Thai cooking and fruit carving instruction.
The art of food presentation is as important as the taste, especially in the professional kitchen. In our How To Carving Fruits & Vegetables section, you can find simple step-by-step tutorials taken from the fruit carving books available for sale here in our online store.
See our latest tutorial for a step-by-step Carved Pumpkin Bowl with Lid. Sign up for our e-newsletter to keep current with the latest carving tutorials and new fruit carving tools, knives, books and DVD's. See our How to Carve page for even more step-by-step directions for carving watermelons, carrots, melons, cantelope, tomatoes and even more pumpkin carvings. Find out about Mukimono, the Japanese art of fruit and vegetable carving.
Learn to carve a simple carrot carving, which would be one of the fundamental carvings taught in beginners fruit and vegetable carving class in Thailand. You'll be happy you took the few minutes needed to master this inexpensive but impressive vegetable carving.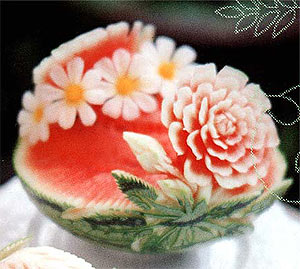 Fruit and vegetable carving in Thailand today is a traditional and highly cultivated art. Not only is the taste and aroma of a dish important but also it's visual appeal. Serving food attractively is an skill that has been practiced for centuries in both Europe and Asia. In Thailand food presentation has been elevated to the status of an art which can require years of study and practice.
Pumpkins, melons, pineapples, and papayas are carved into traditional Thai designs and hallowed out to become containers for fruit salads, hot dishes and sauces. Thais artfully fold banana leaves into baskets, cups and platters. Vegetables are carved into flowers, leaves and even fish and crab shapes and eaten both raw and cooked. Fruits including apples, papayas, cantelopes and watermelons are transformed into works of art.
The carving of fruits and vegetables was originally for the exclusive enjoyment of the Siamese King's court. The Thai people are very artistic and have a deep appreciation for beauty and ornamentation as evidenced by the elaborate costumes of classical Thai dancers and the intricate adornment of Thai temples (wats). Decoration of the dishes of a Thai meal is innate to the culture.
Today Royal Thai cuisine has become world famous. Traditional Thai society highly valued the art of food presentation and the mastering of it was considered to be the mark of a true aristocratic lady in ancient times. The Siamese Grand Palace was a sort of finishing school for well-born women teaching classical cooking, flower arranging, making fresh flower garlands, banana leave folding, classical dancing, dress making, perfume brewing, betal chew arrangement, cigarette rolling and fruit carving. Carving reached its zenith during the Bangkok reign of King Rama II (1809 - 1824).
The highest of these palatial arts and crafts was considered to be the carving of fruits and vegetables, where ordinary produce such as cucumbers, pumpkins, watermelons, tomatoes and onions were transformed into miniature animals, birds, life-size flowers and serving containers. Traditional Thai boats, classical figures from Thai mythology, heroic statuary from the Ramayana epic are inspiration for carving not only with fruits and vegetables but also in ice and butter. Carvings like this can still be seen at four star hotels and carving competitions in Thailand. Fortunately for mere mortals, after the 1931 political revolution in Thailand, all the arts and sciences of royal cuisine were passed onto commoners through the school system.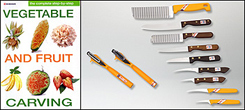 Learn to carve fruits and vegetables with our step-by-step Fruit Carving Book and Knife Set:
11 high quality Kom Kom carving knives and tools
Step-by-Step Vegetable and Fruit Carving Book