Learn Fruit and Vegetable Sculpting DVD

,

Chef Ray Duey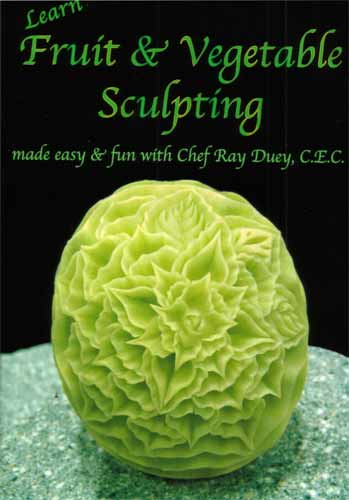 From easy carving for beginners to unique techniques for professionals, Chef Ray Duey demonstrates how to create 23 basic-to-spectacular food sculptures is this Fruit Carving DVD. You will find easy to follow step-by-step instructions to make beautiful fruit and vegetable carvings. Watch as Executive Chef Ray Duey demonstrates how individual carvings can go together to form larger arrangements. This DVD can be used as a teaching aid for students or staff or just for fun.
The perfect motivator for the culinary artist, the DVD begins with a foundation of the basics and quickly moves to more advanced techniques and pieces, making it a must have for all levels of carvers.
Chef Ray Duey is a Certified Executive Chef through the American Culinary Federation. He has been teaching culinary arts since 1985 to professionals chefs, caterers and individuals.
Carvings instructions include:
Tomato Rose, Radish Flower, Cantelope Dahlia, Cantelope Spirals, Leek Ribbon Flowers, Honeydew Melon Swans, Advanced Melon Carving, Pineapple Rose and more.
Carrot Cattails by Chef Ray Duey
"Chef Ray has a gift for teaching this art form that enhances the food service/hospitality value to their customers. The DVD permits both beginners and pros to master an art that helps separate their businesses from the competition. Chef Ray has helped hundreds of caterers to move to the next level when it comes to food display. Having the DVD is like having Chef Ray in person. I highly recommend it."
Mike Roman, President Catersource
"We followed the CD and were able to create in only about 1 1/2 hours two cantaloupes and a large watermelon the first time, which we thought was great! And we showed off our pieces to clients for the next week. We are going to be in a competition at the end of February and we will definitely be doing carvings to highlight our products and services. Thanks."
David and Jan

"The DVD contains many beautiful carvings, that I consider a big bonus, because I was only expecting the How To section! You are truly an artist!"
Guy

"Chef Ray, I really need to compliment you on your talents and for sharing them with everyone. You have magical hands. I can not describe with words how beautiful it is what you're doing with food."
Wao

"The course you taught at Catersource 2004 in Vegas...was nothing short of phenomenal. I'm so glad I had the chance to be there. I can't believe what I learned from you in such a short period of time. Your carvings on your DVD are breathtaking!!!"
Betty
Fruit & Vegetable Carving by Chef Ray Duey
---
To Garnish or Not To Garnish?
by Chef Ray Duey
With the recent resurgence of culinary artistry including fruit and vegetable carving, chefs are left to ponder whether or not to upgrade their skills or surround themselves with the necessary talented staff.
Culinary artistry gives the food service professional a chance to accomplish several goals:
Immediate positive feedback
Future business marketing
Great knife skills training for the staff
An avenue to make you stand out from the rest of the crowd
Additional revenue streams
With the abundance of teachers, books, dvd's, and online resources, chefs have a variety of skill enhancement opportunities. The sheer joy of creating something eye appealing is something that cannot be measured!
With the recent decision of the American Culinary Federation to include fruit and vegetable carving as a competition category, this genre of art and skill will only continue to grow in popularity and stature.
So sit down, dust off your tools, grab some produce and start creating!
Chef Ray L. Duey, CEC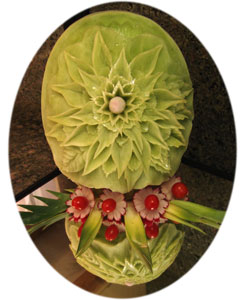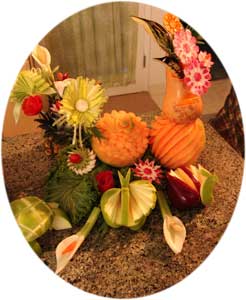 RETURNING DVDS:
Please note that we do not offer refunds on DVD products but will gladly replace faulty items due to manufacturing defects. Please see our returns policy for more details.
Also see more Chef Duey's DVDs and recommended tools and carving knives:
Availability: Ships in 2-3 business days from Los Angeles, California.
Category: Fruit Carving DVDs
SKU: 7000450266