Playing with your Food DVD

,

Chef Ray Duey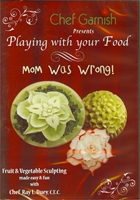 Forget what your Mom said about not playing with your food, or knives for that matter. Professional culinary artist, Ray Duey teaches you how to play with your food and even get paid to do it. Given an ordinary daikon radish, Chef Ray Duey envisions a candle. Show him a rutabaga and he'll turn it into a bouquet of ginger flowers. A common cucumber becomes a lobster under his carving knife. Quoted by the New York Times, Chef Ray says It's crazy that you can make a living playing with your food."
Chef Duey (aka Chef Garnish) is one of the leading professionals in the growing art of fruit and vegetable carving. Forgotten garnishes like the tomato and radish rose have now been elevated into food art and the services of its top artists are much in demand, including invitations to carve the White House's Halloween pumpkins.
Chef Duey, has twice competed in the Food Network Fruit and Vegetable Sculpture Competition. Ray Duey, a former restaurant chef, quit to become a full time professional carver. Now-a-days Chef Duey creates expensive edible arrangements for restaurants, caterers and individual clients. A frequent guest of culinary trade shows and produce promotions, Chef gives carving demonstrations verging on performance art. He also teaches carving to chefs and caterers worldwide, including culinary professionals in the US Navy and Coast Guard.
In his latest carving DVD, his third DVD on the subject, Chef Ray Duey demonstrates easy whimsical garnishes to more advanced Thai carving techniques. He will teach you how to carve vegetable animals, ornate roses, daikon radish candles, fruit baskets and carrot flowers. Also find out how to etch melons to create another type of carving design. The DVD features 12 individual carving demonstrations (see the complete list below).
Chef Ray Duey is an American Culinary Federation Certified Executive Chef and owner of "Chef Ray Presents" A culinary artist, Chef Ray Duey works his magic on fruits and vegetables, elevating ordinary produce into food art. His work has earned him outstanding reviews and awards pleasing audiences far and wide. He is an excellent teacher for gaining valuable, marketable culinary skills.
On the DVD:
| | |
| --- | --- |
| Carving Tools | Easy Animal Garnishes |
| Daikon Radish Candle | Potato Rose |
| Edge Roses on Basket | Layered Carrot |
| Swans on the Heart | Angel Wing Technique |
| Thai Carving Techniques | Outside-In Carving Technique |
| Opposed Smile Honeydew | Etched Honeydew Melon |
See more of Chef Ray Duey's DVDs and recommended tools & carving knives:
---
RETURNING DVDS:
Please note that we do not offer refunds on DVD products but will gladly replace faulty items due to manufacturing defects. Please see our returns policy for more details.
Availability: Ships in 2-3 business days from Los Angeles, California.
Category: Fruit Carving DVDs
SKU: 7100000667