Paring Knives

The Paring Knife is a common type of household blade and is one of the three essential fruit carving knives required to follow the instructions in our fruit carving books and tutorials. It is commonly used for shaping fruits and vegetables before using a bird's beak knife to apply more detailed designs.
Kom-Kom brand knives are produced to an exceedingly high standard, boasting superior specifications compared to the Kiwi brand. Known to be the very best knives that Thailand has to offer, Kom-Kom's designs are both attractive and practically suited for everyday use. Their stainless steel blades consist of a dense carbon alloy that is first heat treated and then carefully tempered to ensure long-lasting sharpness and unrivaled durability. Amateurs and professionals alike will appreciate having a wide range of carving tools to create your next masterpiece.
Kom Kom Paring Knife Features
Genuine Kom-Kom brand knife imported from Thailand by Temple of Thai, USA
Conveniently cut food in hand without requiring a chopping board
All purpose blade which can be used for cooking as well as fruit carving
Long lasting, high-quality hardened stainless steel blade
Well balanced design with double-riveted wooden or molded plastic handle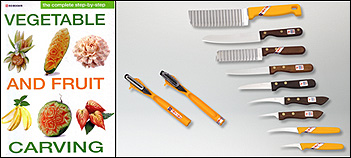 Also see our complete sets of carving books and tools.