Garnishing Tools & Garde Manger Sets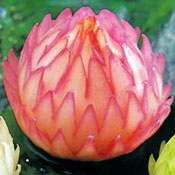 Create clean cuts with our Garde Manger Carving Sets: Corrugated U-Cutters, U and V-shaped Carving Tools and new Fruit Art Carving Set for creating modern edible art from vegetables and fruits. Crafted from super strong stainless steel, these durable and extra sharp culinary tools are perfect for creating both wavy and straight U & V-shaped cuts.
The linear U & V shaped tools and the corrugated serrated garnishing tools are essential equipment for the professional chef garde manger. These are great tools for quickly creating edible arrangements and fruit decorations, especially from melon and watermelons.
Complete your carving tool kit by adding our new Vegetable and Fruit Art Carving Set to your knife collection. This set of six unique tools are handcrafted in Thailand by skilled Thai artisans who specialize in knives for the fine art of fruit and vegetable carving. Purchase all three sets and unleash your creativity in shaping, forming and finishing your carved vegetable and fruit masterpieces!
Like the 'U' and 'V' shaped tools, this four piece set is deal for carving out inner flesh or chipping away at the outer skin of fruits and vegetables.

Set of 6 versatile fruit art garnishing and carving tools consisting of 3 U-shaped blades and 3 V-shaped with wooden handles and balanced selection of smooth and serrated blades neatly stored in a fabric roll bag.

This six piece set of 'U' and 'V' shaped garnishing tools is elegantly crafted, razor sharp, and superbly practical for Thai fruit and vegetable carving, garnishing and garde manger.