Handmade Fruit & Vegetable Carving Knives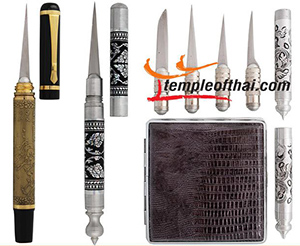 High quality handmade fruit and vegetable carving knives made in Thailand are widely used in the world of professional fruit carving. The Thai carving knives here are crafted in traditional styles by Thai artisans and have been used by professional fruit carvers in Thailand for years.
These knives are lightweight and ideal for long hours of intricate carving work. The unique blades are strong, flexible, thin and sharp they cut with precision. Carving with these knives feels balanced and comfortable and the blades hold their sharp-edge through hours of use.