Dual Blade Professional Fruit Carving Knife

,

Temple of Thai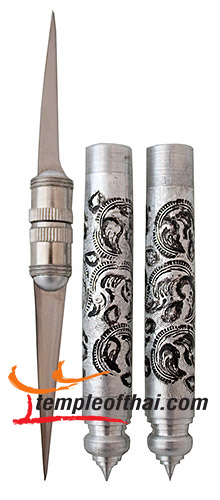 Our new dual blade professional fruit and vegetable carving knife gives you two different blades cleverly nested within the handles. The sharp steel blade is two-headed, with a screw base, so it can be turned around for an entirely different carving blade. Either of the knife handles can be used to hold the reversible blades for use. The blades are protected when the blade and two handles are screwed together into one unit, keeping your blade sharp and clean when not in use.
The dual blade carving knife is excellent for the busy professional chef as it is highly portable and convenient. The carving blades are razor sharp, incredibly thin and flexible making this dual blade knife suitable for the most detailed type of fruit and vegetable carving. The flexible blade can be carefully bent to access and create elaborate, three-dimensional, curved fruit carvings.
Dimensions: Length with cap 7 1/4" (18.5 cm); long blade 2" (5cm); short blade 1 7/8"(4.5cm)
Availability: Ships in 2-3 business days from Los Angeles, California.
Category: Handmade Carving Knives
SKU: 7200000748