Asian Cookware — Mortar & Pestles, Steamers, Woks and Knives
Welcome to the Temple of Thai Asian Cookware section. Here you will find all the utensils, knives and equipment you will need for preparing delicious thai food. If you don't yet have Thai kitchen cookware essentials such as the mortar and pestle you can find it here.
---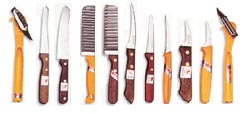 Everything you need to start the popular Thai art of fruit & vegetable carving. This set contains 11 high quality tools including the Kom Kom Miracle Knife. The set is also available with a high quality step-by-step fruit and vegetable carving book - for more info see our book & tool set page.