Knives & Cleavers — Kiwi Kom Kom Brand
Kiwi Kom Kom brand knives should be part of every good kitchen. Ideal for preparing fruits and vegetables and for all general kitchen cutting and slicing tasks, no self respecting Thai kitchen would be without at least one. They are also perfect for practicing the fine art of fruit & vegetable carving. Saveur.com has selected one of our Cleavers as one of it's top kitchenware products (the 8" Chefs Knife, #21, Kom Kom).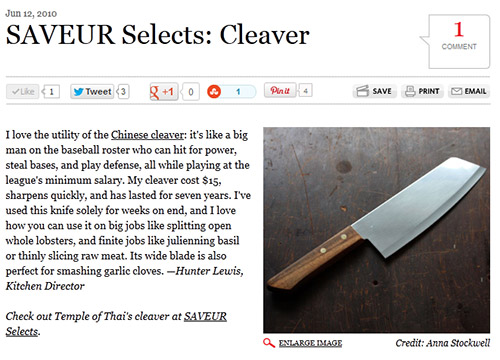 Caveat emptor: In recent years, because of their popularity, Kiwi & Kom Kom brand knives are being illegally counterfeited in China and Pakistan. Sometimes difficult to discern from the original brand, these knock-offs are of inferior quality. Now the Kiwi Kom Kom company is proud to annouce a new line of high quality knives, their Kom Kom brand. The Kom Kom knives are of higher standard and quality and are not readily available in retail stores outside of Thailand. Temple of Thai, USA imports these knives directly from the Kiwi and Kom Kom Company to America. See details below to compare the two brands, both of which are available for sale here in our store.
Genuine Kiwi Kom Kom Thailand — Beware of Inferior Counterfeits
The Kom-Kom brand knives are more expensive and of better quality compared to the original Kiwi brand made by the same Thai company, which is cheaper and also a good inexpensive, everyday knife. When compared side-by-side the quality of the both the wood and metal used is higher in the Kom Kom brand. Additionally in some models, the tang runs down about 80% of the handle in the Kom Kom model, compared to half tang with the Kiwi and there are more rivets in the Kom-Kom handle compared to the Kiwi brand. The Kom-Kom brand is usually slightly heavier than the Kiwi. The blade is stamped Kom Kom (as opposed to just simply Kiwi).
As per the Kiwi & Kom Kom company these are differences between 2 brands which they manufacture:
Kiwi
· Less expensive than the Kom-Kom brand
· Fewer production processes compared to the Kom-Kom brand
· If you prefer to sharpen your knife regularly, you may prefer the Kiwi brand, which has a very thin blade
Kom-Kom
· Higher priced compared to the Kiwi brand of knives
· Passes through more processes of production compared to the Kiwi brand
· Keeps an edge longer if kept in a good condition, lessening the need for sharpening
· In addition, the Kom Kom brand knives are packaged in retail blister packages