3" Asian Mini Cleaver (504)

,

Kom Kom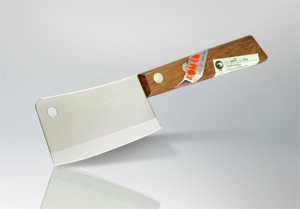 This mini-cleaver knife (Kom Kom #504) is uniquely appealing when it comes to presentation, especially for opening wine bottles and cutting cheeses. This Asian mini cleaver can even be used for serving French pate.
The blade is 3 inches long, double riveted, and extends half way down the length of the handle. Despite its shape, this knife bears very little resemblance to standard sized cleavers and is can be used as a decorative knife to enhance cheese and fruit displays and to add an extra touch of style during table service.
Kom Kom knives are produced to an exceedingly high standard, boasting superior specifications to their cheaper selling variant, Kiwi. Known by reputation to be the very best knives that Thailand has to offer, Kom Kom's designs are both attractive and practically suited for everyday use. Their stainless steel blades consist of a dense carbon alloy that is first heat treated and then carefully tempered to ensure long-lasting sharpness and unrivaled durability.
Product Features
Authentic Kom Kom knife imported from Thailand
Ideal for large buffets and prestigious occasions
Good for opening wine bottles and cutting cheeses
High-quality hardened stainless steel blade
Well balanced with double-riveted fine wooden handle
Also see our best Cleaver Knives and more tools and knives imported from the Kiwi & Kom Kom Knife company, Thailand:

Availability: Ships in 2-3 business days from Los Angeles, California.
Category: Sticky Rice, Cooks Knives & Cleavers
SKU: 6255000458