Pro-Slice Papaya Shredder (Blue)

,

Kiwi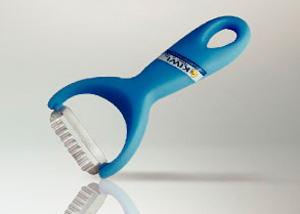 Often seen shredding papayas in a Bangkok street vendor's kitchen, the Kiwi Blue Pro-Slice is a ubiquitous item that is commonly used throughout Thailand. Cheap, affordable, and easy to clean, Kiwi products are tools that you just can't go wrong with.
This Blue Pro-Slice (Kiwi #218) is most famously used in the preparation of one of Thailand's most famous recipes: spicy papaya salad or som tam. It has a 2 inch blade, an overall length of 5.5 inches, and it's dishwasher safe. Equipped with its large, stainless steel blade, the Pro-Slice glides through semi-firm fruits like avocadoes, carrots, and mangoes with ease. Throughout the restaurants and kitchens of Thailand these convenient tools are used for making papaya salads, shredding radishes for soup, slicing cucumbers, and cutting up large batches of potatoes for frying. What is particularly useful about the Blue Pro-Slice is that its wavy edge increases the surface area of its slices which not only makes food look more attractive but makes for faster Thai-style cooking. The ever-handy Blue Pro-slice tool is perfect for caterers, dinner parties and garde manger. Whether you're in a home kitchen making potato chips or catering for a gourmet banquet, the wave-edged blade will always save time and produce excellent results.
Product Features
Imported from Thailand
Excellent Value for money
Razor sharp slicing tool
Designed to last
Dishwasher-safe plastic handle
See a video recipe for Papaya Salad from Thai Food Tonight:
Availability: Ships in 2-3 business days from Los Angeles, California.
Category: Cutters, Peelers & Graters, Pok Pok Cookware, Peelers & Slicers
SKU: 6252100196
UPC: 88511300507
Andy Ricker recommends these other great tools and cookware:
At the Least:
A Step Beyond:
For A Complete Pok Pok Kitchen: