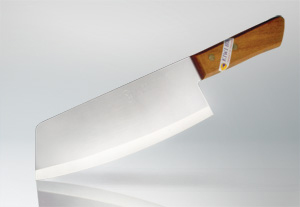 Kiwi brand knives from Thailand are amazingly good cutters and are so inexpensive you shouldn't leave our store without at least one Kiwi kitchen knife. Some say this is the best, most versatile knife in existence.
This Thai cooks knife is easy to handle with a wooden handle and stainless steel blade. Its reasonably priced for both the amateur and professional chef. Whether you're a serious gourmet chef or value-conscious weekend cook, Kiwi brand offers the best quality and value in knives.
Stainless steel blade, hardened and tempered with a wood handle. We recommend hand washing to preserve the knives edge. The Kiwi brand knife is super sharp and very easy to sharpen using our sharpening stone. Sharpen daily for best results. Imported from Thailand.
Also see our 8" Chefs Knife, Kom Kom brand.
Product Features
Authentic Kiwi & Kom-Kom brand knife imported from Thailand by Temple of Thai USA
High-quality hardened stainless steel blade
Well balanced with double-riveted fine wooden handle
Easy to sharpen and maintain the blades edge
Note: Usually ships within 2-3 business days
Availability: Ships in 2-3 business days