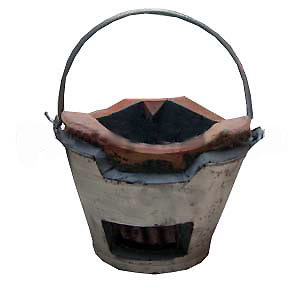 This old-fashioned Thai Charcoal Stove is still widely in use in Thailand, both at home an in the market. For the modern home, it is not only great for BBQ, but also perfect for wok cooking outdoors. In Thai kitchen, stick charcoal is common, but briquettes can be used in the West.
To adjust the heat, the top socket of the stove is removable, so that the air can circulate when a wok or pot is set on top. The open socket also allows space to add and realign the charcoal to control the heat without having to lift the wok or pot off. Some people put the socket in place if they want steady heat (mostly medium to low) for a long period of time. But for high heat, the socket is usually left open, so that more fuel can be added during cooking.
The stove itself is made from clay and surrounded with cement and wrapped with a metal sheet. We love this stove, as it's very relaxing to sit outside on nice day cooking a curry, steaming sticky rice or even making Pad Thai. It's also perfect for grilling or barbecuing meats such as BBQ Chicken (gai yang) or Grilled Pork (moo yang). You'll often see Thai people take these on camping trips in the national parks or on a family day out by the waterfall.
Size: 10" width x 8 1/2" high (small) weight : 10 lbs
Most vendors these days use the convenience of bottled gas to prepare food but you'll also find the charcoal stove is still alive and well. This vendor is preparing food at a night market in North East Thailand but you'll find it's a common outdoor kitchen appliance in many households across Thailand especially in rural areas.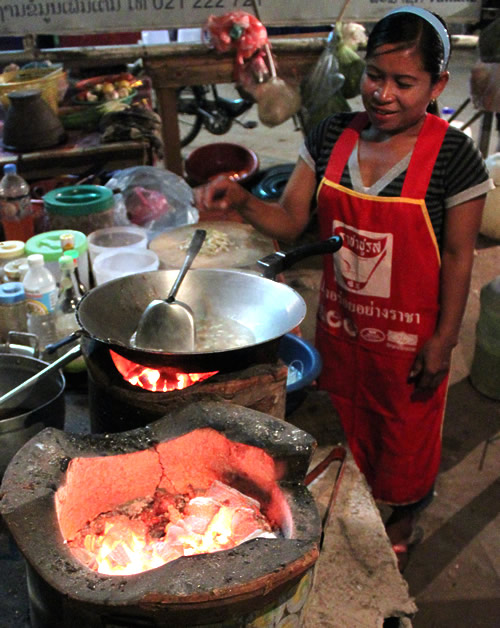 Availability: Ships in 2-3 business days