Thai Sticky Rice, Steamers & Serving Baskets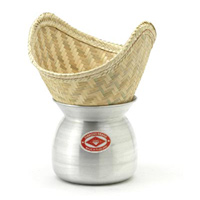 Thai sticky rice makes an excellent basis for your next Thai dinner. With our imported rice steamer cooking is a breeze. Just presoak the rice at least 4 hours and cook in the conical-shaped basket placed over boiling water. Cover with any pot lid until cooked through. Serve in our cute sticky rice serving baskets accompanied with grilled chicken.
See related Thai recipes for Sticky Rice: How to Steam Sticky Rice, Thai Grilled Chicken, Sticky Rice with Mango, Black Sticky Rice Dessert.
---
To cook sticky rice, both types are steamed in a special rice cooker (pictured above). You cannot cook these types of rice in a standard electric rice cooker.
See other types of Thai rice available in our store here. We also have a wide selection of kitchenware in our store.