Sticky Rice Steamer Basket

,

Imported from Thailand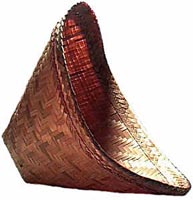 Suspend this bamboo basket (huat in Thai) over several inches of fully boiling water in a special Thai steamer pot or other similar-sized pot to steam pre-soaked sticky rice covered with any pot lid. Pre-soak the sticky rice at least 4 hours or overnight before cooking. The basket may be used to drain the rice after soaking.
To remove any odor before using, allow the basket to sit for a few days with a baking soda and water paste. Then scrub and rinse well before using. To clean after use, soak the basket in warm water after use to remove any rice, using a soft brush if needed and drip dry.
If you are using an induction range, you can purchase just this basket and steam the rice over a large stock pot. This is because an aluminium pots cannot be used with induction ranges.
Basket made from handwoven bamboo in Thailand. Width 17", height 13".
See more about Sticky Rice.
Availability: Ships in 2-3 business days from Los Angeles, California.
Category: Sticky Rice, Steamers & Rice Cookers
SKU: 6240000042