Kanom Krok Pan (Large)

,

Imported from Thailand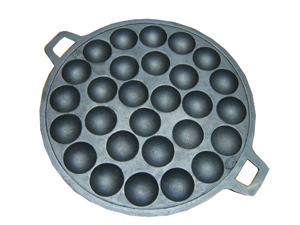 Thai Rice and Coconut Pancakes (Khanom Krok)
Use this large 28 hole Kanom Krok Pan to prepare the popular Thai street snack, Khanom Krok. These coconuty bite-sized sweets are best hot & fresh out of the grill with crispy edges and creamy centers. To get the best taste, cook it at home with this authentic Kanom Krok Pan imported from Thailand.
Kanom Krok is a sweet snack prepared in a special type of cast-iron or terra cotta pan, which is heated over hot coals. The pan has many hemi-spherical indentations about the size of a golf ball, into which the batter is poured. In Thailand the pan is round so that it will fit over the round charcoal burners used by Thais.
Before beginning it is very important to well-season the kanom krok griddle. The pans we sell are the authentic Kanom Krok pans used by street vendors in Thailand to prepare this delicious snack. The pan will be oily and may be even somewhat rusty when you receive it, therefore please be sure to see our instructions regarding how to prepare cast iron cookware.
You may have seen this type of pan used on the popular TV show, Iron Chef, Thai Chef Ian Chalermkittichai vs Chef Batali (January 2007).
Size: The diameter of the pan is approximately 14 inches (16 inches including the handles); this large size pan has 28 holes which are 1 15/16" (almost 2 inches) in diameter and about 5/8" in depth; the pan weighs approximately 10 lbs. Imported from Thailand. Also see our smaller kanom krok pan.
Thai Coconut Pudding (Kanom Krok)
Kanom Krok ingredients
Mix coconut milk and flour in a bowl until well blended. Bring water to a boil and pour over the coconut milk mixture. Mix.
Topping ingredients
1 cup coconut milk, Chaokoh brand
1/2 cup sugar
1/2 tsp salt
Heat the kanom krok pan. Grease the holes with soybean oil.
When the pan is hot, fill the holes about 3/4 full. Then top with topping ingredients. Put 3-4 sweet corn pieces on top if desired.
Cover the pan with a pot lid to cover for about 5-8 minutes or until the edge of the pudding turns slightly brown.
Remove the kanom krok with a small metal spoon and serve.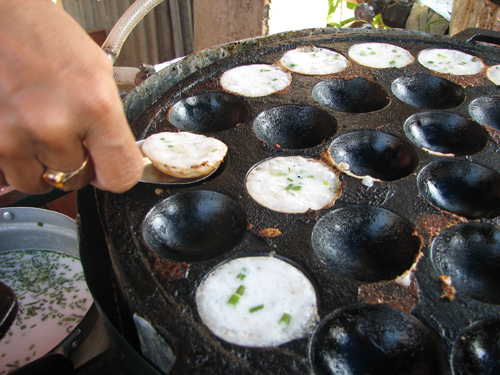 Availability: Ships in 2-3 business days from Los Angeles, California.
Category: Sticky Rice, Thai Dessert Cookware
SKU: 6210000316