Khanom Krok Pan (Small)

,

Temple of Thai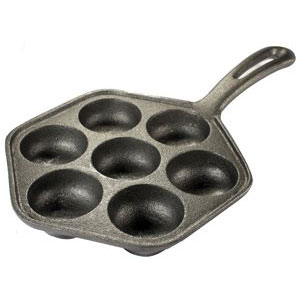 Create delicious Thai coconut pancakes or Kanom krok at home. This marketplace favorite is a bite-size sweet and savory hotcake prepared with coconut milk and ground rice. In Thailand, it is often topped with shrimp, chilies, caramelized peanuts, corn and scallions.
Cooking in cast iron gives a sensational crispy texture. Before using the pan it must be seasoned, see instructions here.
Material: Cast iron pan. Dimensions: 6-1/2" diameter with seven 2" X 1" deep hole size.
See our Kanom Krok recipe.
Also see our large Kanom Krok Pan.
Availability: Ships in 2-3 business days from Los Angeles, California.
Category: Thai Dessert Cookware
SKU: 6210000152