Coconut Milk

,

Chaokoh

, 13.5 fl oz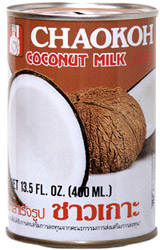 Coconut milk (nohm gkati in Thai) is an essential ingredient for Thai curry, soup, and sweets. Coconut milk is extracted from the squeezed grated flesh of the mature nut and is not the water from inside of the coconut (which is usually discarded). Young immature green coconuts are the source of sweet coconut water, which is for drinking.
ChaoKoh brand, imported from Thailand, is sweet, light in taste and is used for general cooking. Please note that not all brands of coconut milk are good, and by using an inferior brand you risk ruining your dish. Also we do not recommend "light coconut milk" as often it is thickened with flour and has little flavor. Thinning a good-quality coconut milk with water or cooking liquid will result in a much tastier dish.
If you are concerned about the saturated fat content in coconut milk, note that this type of saturated fat has been shown in many independent studies to be a good saturated fat, which is easily metabolized to give your body quick energy. Please see our article for more details on Coconut & Cholesterol. Coconut is rich in glucose, fructose and important inorganic salts. It may be used as a milk substitute for vegans or the lactose intolerant (but not for nursing infants).
Also see Mae Ploy brand coconut milk which is thicker in consistency and therefore great for desserts and recipes calling for coconut cream. Use canned coconut milk in recipes calling for coconut milk or coconut cream.
To store once opened, refrigerate and use within a week. For longer storage, you could freeze but it may curdle when boiled, which looks less appealing but can still be consumed.
See more Thai recipes for:
Ingredients: Coconut extract, water, citric acid and potassium meta bisulphide (as preservative). Product of Thailand.
Availability: Ships in 2-3 business days from Los Angeles, California.
Category: Canned Food, Coconut Milk, Satay
SKU: 4100401083