Satay Ingredients — Satay Sauce, Seasoning & Skewers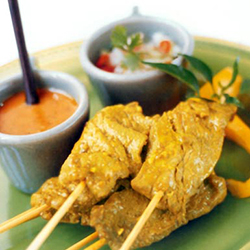 Satay is a simple dish of grilled meat marinated in spices and cooked on skewers in bite-sized pieces. The skewers make satay easy-to-handle, for both grilling and eating and is popular throughout South East Asia as a tasty snack or main meal accompaniment. Satay is usually eaten with a peanut dipping sauce and cucumber salad (ajad).
On this page you will find all the ingredients you need for making your own delicious satay including the bamboo skewers. For satay and marinade recipes read more about satay in our recipes and cooking tips section.