Satay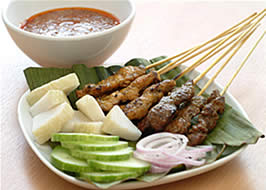 Rather than describing one particular dish, the term satay (also known as sate, satae) actually refers to a method of cooking, in which thin strips of marinated meat are threaded onto skewers and grilled. The skewers (bamboo or metal) spread the meat effectively for cooking and make it easy-to-handle, for both grilling and eating.
Originally beef and chicken were used, though nowadays anything including beef, pork, chicken, giant prawns and even fish fillets can be used to make satay. A vegetarian version of satay is made by slicing tofu to make appropriately sized strips and threading onto skewers. To firm tofu, freeze solid, then thaw in the refrigerator; finally marinate and grill.
Also see our blog post entitled 'Sizzling Satay: Thai Grilled Snacks'.
The traditional accompaniment to satay is a sweet and spicy peanut dipping sauce (known in Thailand as nam jim tua). Traditionally this sauce is a complex blend of dried and fresh spices combined with freshly roasted and ground peanuts cooked in coconut milk. This sauce is then seasoned with fish sauce, shrimp paste (kapee), palm sugar and tamarind. See an excellent traditional recipe from Kasma Loha-Unchit for Thai peanut sauce.

In the USA this sauce has been re-created using peanut butter, perhaps because fresh raw unsalted peanuts are difficult to find. To many Thais and Asians this type of preparation must be considered to be strictly American and perhaps they would not enjoy eating it themselves!
Fortunately there are excellent ready-made satay seasoning mixes and sauces now available imported from Thailand.

Portable hawker stalls, which provide the Asian version of fast food, usually serve the satay and peanut sauce very simply with sliced shallots and cucumber rounds. In restaurants, a more elaborate cucumber salad (a jad) is also available.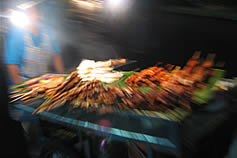 Satay, or meat-on-a-stick, originated in Indonesia, but can now be found throughout South Asia, including Thailand. Satay is now well known in the West and almost all Thai restaurants will have some variation of satay on their menus.
Some people believe the word 'satay' to be of Tamil origin but it is more likely a corruption of the English word 'steak', because Asians tend to have trouble pronouncing consonants together, particularly the letters 's' and 't'. Because it is a phonetic spelling, you will also commonly see this dish written as 'sate' or 'satae'.
Satay is succulent and a simple dish to make. It is also highly versatile, making a great starter or snack and can even be served as a main meal or part of a barbeque menu. It is fun to prepare and eat, tasty and highly portable. For these reasons, its wide-spread popularity is well deserved!
Shop online for real Thai Satay ingredients.
We would love to hear your comments so feel free to share your thoughts with us.
---