Thai Cucumber Relish Recipe (Ajat)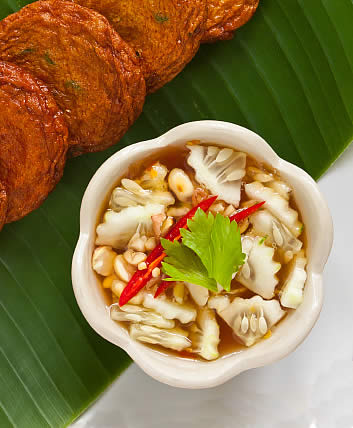 Serve cucumber relish alongside Satay, Gaeng Karee (Yellow Curry), Tod Mun Pla (Thai Fish Cakes) or with any Thai meal or appetizer that would benefit from a cooling relish. This is a very quick and simple recipe to prepare that will take only a few minutes.
Ingredients
1/3 cup vinegar
1 cup sugar
2 teaspoons salt
1 cup cucumber, sliced
1 tablespoon fresh Thai chili peppers, chopped
1/3 cup roasted peanuts, ground
2 tablespoons fresh coriander leaves for garnish
Preparation
In a small mixing bowl, combine vinegar, sugar and salt. Mix very well until sugar and salt are dissolved.
Add cucumber, ground peanut and hot pepper.
Mix well.
Top with coriander leaves.
Tip
You can make this dish more attractive in a very simple and effective way by slicing the cucumber using a decorative wavy-edge knife as you can see in the photograph.
Recipe Copyright © 2010 Temple of Thai; Image © 2010 Piyachok/iStockphoto.com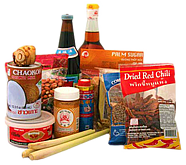 Shop for ready-made spice pastes, peanut sauces and other
ingredients for satay
in our online Asian grocery store.
We also offer complete kit (pictured left) for preparing satay with our Super Satay Set. The set contains a recipe card and 15 grocery items many of which are non-perishable and can be stored and used to make other Thai and Asian recipes as well as delicious satay!