Crinkle Cutter Knife, Wood Handle, 5" (019)

,

Kom Kom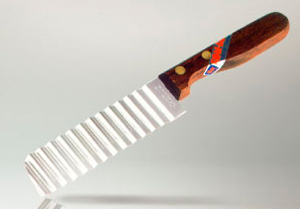 This wavy-edged decoration knife (Kom-Kom #019) features a parallel wave pattern for decorating food with speed and effortlessness. Frequently used by professional chefs throughout the world, the decoration knife is a convenient household kitchen item both for beautifying meals and for fruit and vegetable carving.
This knife has a distinct 4¼ inch rectangular blade with a parallel wave pattern that runs evenly from edge to spine. From crest to crest, the pattern wavelength is 8mm. 3cm wide and 1mm thick, the blade is double riveted with a half length tang that extends into a 4 inch wooden handle. Even though the Kom-kom 019 is quite limited in terms of usefulness outside food decoration, it is impossible to exaggerate just how frequently these knives are used to add a touch of character in Thai cuisine and fruit carving. They are used internationally by caterers to add last minute touches and are an indispensable tool for professional chefs and fruit carving enthusiasts alike.
Decoration knives can, of course, be used with virtually any type of solid food thinkable in order to make it more visually attractive and to increase its surface area, thus allowing (in some cases) for faster cooking and deeper absorption. In Thailand, the ridged effect that this knife produces can be seen in a number of unrelated recipes such as Massaman curries, agar jellies, tofu stir fries, gaeng joot, and crudité platters. Many of the fruit and vegetable carving books available at the Temple of Thai recommend decoration knives to save time on carving displays. Moreover, decoration knives provide an easy way to turn food like carrots, eggs, and lemons into attractive and appetizing decorations within a limited amount of time and effort.
Kom-Kom knives are produced to an exceedingly high standard, boasting superior specifications to their cheaper selling variant, Kiwi. Known by reputation to be the very best knives that Thailand has to offer, Kom-kom's designs are both attractive and practically suited for everyday use. Their stainless steel blades consist of a dense carbon alloy that is first heat treated and then carefully tempered to ensure long-lasting sharpness and unrivaled durability.
Product Features
Authentic Kom-Kom knife imported from Thailand
Ideal for large buffets and prestigious occasions
Useful decorating and adorning fruit carvings
High-quality hardened stainless steel blade
Well balanced with double-riveted fine wooden handle
Availability: Ships in 2-3 business days from Los Angeles, California.
Category: Cutters, Peelers & Graters, Decoration Knives, Peelers & Slicers
SKU: 6255000457
UPC: 885113006014