Peanuts with Skins

,

KS

, 12 oz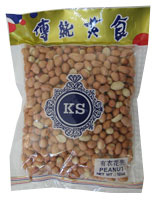 Peanuts in Red Skins are fresh and ready to be roasted for adding to your Thai and Asian dishes. Use whole or chopped in salads, curries, soups and peanut confections. In Thailand, peanuts are a necessary ingredient in Papaya Salad (sohm tohm), Pork Satay, Satay Peanut Sauce (nam jim), often are added to Masamam Curry and also a Thai dessert or snack called Tua Tuad (crispy peanut cookies). Another favorite hearty Thai dish is Pork Leg Boiled with Whole Peanuts.
To prepare roast peanuts in a dry heated wok or in the oven. Cool and rub off the skins. We have a step-by-step cooking video so you can learn how to prepare Roasted Peanuts (see here below). This video is part of our Perfect Pad Thai Recipe Kit.
Ingredients: Peanuts. Product of USA.
Availability: Ships in 2-3 business days from Los Angeles, California.
Category: Pickled & Preserved, Pad Thai
SKU: 3921000264