Thai Peanut Cookie (Tuar Tuad) Ladle

,

Product of Thailand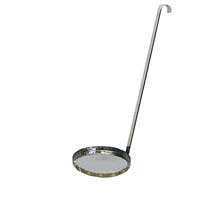 Tuar Tuad Making Ladle is made of stainless steel imported from Thailand. This tool is used for making traditional Thai peanut cookies called Tuar Tuad. Rice flour and tapioca flour were mixed with peanuts and fry until it's cooked. Some recipes show the alternative way of making Tuar Tuad by mixing cube-size of taro or wild yam. Tuar Tuad from Sukhothai province is very famous among Thais.
Dimensions: width 3 inches, and length 8 inches. Comes in two pieces.
Availability: Ships in 2-3 business days from Los Angeles, California.
Category: Thai Dessert Cookware
SKU: 6210000565