Tapioca Flour

,

Erawan

, 16 oz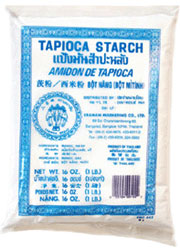 Tapioca Flour or starch (แป้งมันสำปะหลัง paeng mun sam palang in Thai) is used in Thailand for sweets, to coat foods for deep frying, and as a thickener.
Tapioca flour is made from the yucca or cassava root (native to South America) it is also the glue that holds eggrolls together. The root when raw contains toxic portions of hydrocyanic or prussic acid but after the juice is pressed out and the tuber pounded into a paste and cooked, it is edible. Tapioca flour is produced from this paste.
Tapioca flour or starch is used in Thailand for both sweets and for dry-coating foods to deep fat fry. To prepare a shiny clear sauce add 1 part tapioca flour to 1 to 2 parts water. To use as a thickener, mix well with a little water, before adding to your dish, so it does not lump up.
Store well sealed for up to one year.
See recipe using Tapioca Flour: Shrimp with Aspargus, Coconut-Rice Pancakes, Egg Rolls, Spring Rolls and Corn Pudding.
Ingredients: Tapioca flour. Product of Thailand.
Availability: Ships in 2-3 business days from Los Angeles, California.
Category: Flour & Sugar
SKU: 1210013001