Fresh Thai Chili Peppers

,

Temple of Thai

, 2.0 oz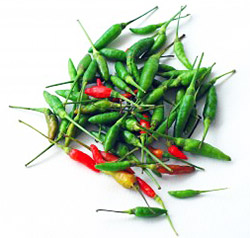 PLEASE READ OUR TERMS OF SHIPPING BEFORE ORDERING.
Thailand's most famous chili pepper, prik kee noo (Capsicum frutescens or birds chilies), are small but powerfully spicy chilies. Add whole to soups like Tom Yum, and if you enjoy the heat, smash to break open with the side of a cleaver or in a mortar before adding.Fresh Thai chilies are an essential ingredients for most Thai salads (like yam goong) and Som Tum(Green Papaya Salad)
Spiciness is a matter of individual taste and also the degree of hotness changes with various chilies, depending upon the climate, soil, and variety. If you are not used to hot food, reduce the number of chilies or choose larger milder varieties.
There are three stages of ripeness for a chile pepper: green, red (mature), and dried deep red brown or black. To ripen green chilies, set in the sun and the chilies will ripen to partially red. Please note that we try to send green chilies (instead of red) when available. After preparing chili peppers be sure to wash your hands several times and use a nail brush. Don't touch your face if possible to avoid contact with volatile oils. Store refrigerated for up to 2 weeks or freeze whole to store longer.
Thai recipes using fresh Thai chilis: Green Curry Paste, Nam Prik Chili Paste, Red Curry, Beef Salad, and Tom Yum Shrimp.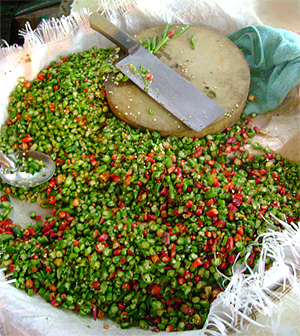 PLEASE READ PERISHABLE TERMS OF SHIPPING BEFORE ORDERING.
Ingredients: Thai chilies. Product of USA.
Availability: Ships in 2-3 business days from Los Angeles, California.
Category: Pok Pok Ingredients, Fresh Produce
SKU: 8400000120