Dried Whole Red Chili Peppers

,

Product of Thailand

, 3.5 oz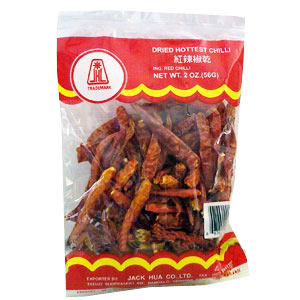 Dried Whole Chilli Peppers (prik haeng in Thai) are integral to Thai cooking.
Pound in a mortar and pestle to make homemade curry paste. Dry roast whole chilies and add to rice dishes and Khanom Jiin (Thai Spaghetti). Roast over low heat in a heavy pan, stirring frequently to lightly char until the chilies turn a dark red. You may grind to add to salads, soups, sauces and curry pastes.
Dried chilies may be deseeded, to decrease the heat, by cutting off the end at the stem crosswise, and then rolling the pod to loosen the seeds and then shaking the seeds out. Pre-soak if desired or as specified in your recipes, but this step can be skipped. In dishes calling for whole fresh chilies, when not available, substitute dried whole chilies soaked in hot water for several minutes.
Store dried chilies in a tightly sealed glass container for up to one year.

Also see Dried Thai Chili Peppers (1 lb) and large Dried California Chili Peppers.
See our recipe for Homemade Red Curry Paste.
Ingredients: Chili peppers. Product of Thailand.
Availability: Ships in 2-3 business days from Los Angeles, California.
Category: Pok Pok Ingredients, Spices
SKU: 3111107210