Thai Noodle Sauce, Nam Yah (2pkg)

,

MaeSri

, 4 oz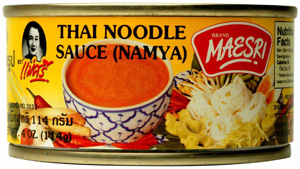 This Thai Noodle Sauce is known as nam yah in Thai and is served over Kanom Jeen Noodles, a spaghetti-like dish popular at roadside eateries in Thailand. Also see Sweet Noodle Sauce.
Note: There are 2 (4-oz.) pkg per order.
Ingredients: Fish, coconut milk, red curry paste, rhizome, sugar, salt, spice and msg.
Availability: Ships in 2-3 business days from Los Angeles, California.
Category: Noodles
SKU: 4532300184