Rice Vermicelli (Guilin)

,

Product of China

, 14 oz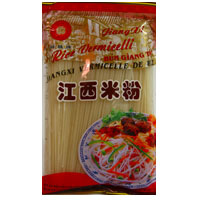 Resembling spaghetti noodles, Chinese Rice Noodle Sticks or Guilin Rice Vermicelli, are popular in Vietnam and Thailand cuisine. These noodles are served as an accompaniment to Som Tum (Green Papaya Salad), Thai curries in the North, and delicious Khanom Jiin, a uniquely Thai spaghetti-like dish, served with spicy curry sauce and raw vegetables (see video recipe below).
Usually sold fresh in Thailand, they are prepared by squeezing rice flour dough through a special sieve. Because it is nearly impossible to find this type of fresh noodle in the West, these dried noodles are convenient to use.
To store noodles, keep in a cool dry place in an airtight container. Use all types of noodles within one year of purchase.
Video recipe for Green Curry Chicken with kanom jeen noodles, from Thai Food Tonight:
Ingredients: Rice flour and water. Product of China.
Availability: Ships in 2-3 business days from Los Angeles, California.
Category: Pok Pok Ingredients, Noodles
SKU: 3510000063