Dried California Chili Peppers

,

Product of USA

, 3.0 oz

This type of Dried Red California Chili Pepper is the dried ripe pepper pod of Capsicum annuum, Anaheim variety. This species is a source of many popular sweet and hot chili peppers, with numerous varieties cultivated around the world. In America, Capsicum annuum is commonly known as a chili pepper or bell pepper. It is also known as the California chile, Magdalena chili and dried as chile seco del norte and is often used in Mexican cuisine.
Dark burgundy in color, it has a shiny, smooth surface and is about 6-8 inches long and 2 inches wide, tapering to a point. It has a slightly sweet aroma with a sweet and very mild flavor.
To prepare for cooking Thai food, dry roast in a heavy pan (cast-iron is best) over low heat until lightly charred. Pulverize in a mortar and pestle or in the blender or food processor with other ingredients to make homemade curry pastes and chili pastes. If desired add a pinch of salt when roasting the whole chilies to keep the fumes down.
Shelf life is six months, stored tightly covered in a non-reactive container.
Also see Dried Whole Red Chili Peppers and Case Dried Thai Chili Peppers (30x14oz)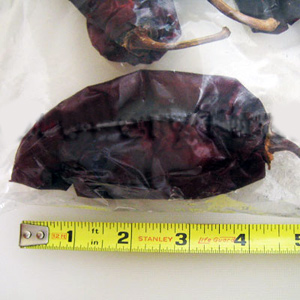 Ingredients: Dried ripe pepper pod of Capsicum Annuum. Product of New Mexico and California, USA.
Availability: Ships in 2-3 business days from Los Angeles, California.
Category: Spices
SKU: 3112062466