Traditional Red Curry (Kaeng Phet)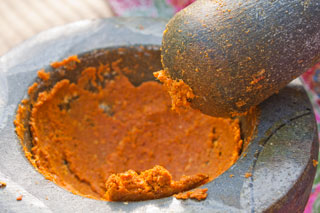 This traditional red Thai curry recipe takes a lot of patience and time, so if possible, prepare with a friend. There are 3 main steps to follow:
Homemade Red Curry Paste
A very small electric blender or electric coffee grinder makes this a quick job. If available, a very heavy stone mortar and pestle with at least a 2 cup bowl is traditional and makes a better textured paste.
In the mortar and pestle or electric blender, grind together the dried chiles and salt. Allow at least 20 minutes by hand, or a couple of minutes with a blender. It should be smooth with just a hint of chile pieces. Add the garlic cloves and pound until smooth.
Cut off the very root end of the lemon grass. Remove outer leaves and discard. Cut the lemon grass crosswise into 1/8-inch pieces with a very sharp knife. Add to the ground chiles, along with the turmeric. Grind again until smooth. Your arm will tire, so take a break.
Last of all, add the shrimp paste and blend together, mashing it into the chilies gently if you are using the mortar and pestle.
Preparing the Dish
1 lb of pork riblets (excellent); or 3/4 lb. fresh pork with some fat (cut into approx. 1x1/2x1/8 inch pieces)
1 small pumpkin or kabocha squash; cut in half and peel off the rough spots with a cleaver; cut the peeled flesh into 3/4 inch cubes
2-3 tbsp fish sauce (Golden Boy brand is preferred)
Cook the pumpkin in boiling water to cover until al dente (still firm in the middle), about 4 minutes. Drain and set aside.
Pour the coconut milk into a medium-sized pot. Add the curry paste to and stir to blend. Bring to a boil over medium-high heat. Add the pork. Boil 3 minutes until the pork is partially cooked. Add the squash. Bring to a boil again and cook until the squash is soft, about 4 minutes. Add fish sauce to taste. Garnish with cilantro leaves if desired. Serve with Thai jasmine rice.

Short on time but still want to make delicious Curry?
Try our highly rated ready-made Nittaya brand Curry Paste.
"intensely delicious curries without the effort." ~ epicurious.com